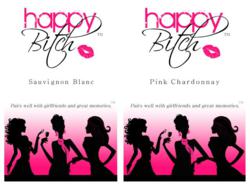 "Adding a splash of Cabernet Sauvignon to the Chardonnay not only creates a great tasting wine and pretty pink color, it's just more fun. It definitely makes for a happier glass of wine!"
Beacon, New York (PRWEB) May 21, 2013
Happy Bitch Wines, a woman-owned and focused wine brand will release two new wines in June 2013. The new wines, a Sauvignon Blanc and Pink Chardonnay, are a follow up to the semi-sweet Rose that launched the wine brand in November of 2011.
The Sauvignon Blanc is crisp and refreshing with topical notes, soft acidity and a hint of lime. It is nicely balanced without being too grapefruity or grassy.
The Pink Chardonnay (96% un-oaked Chardonnay and 4% Cabernet Sauvignon) is refreshing and has nice minerality with flavors of green apple and a hint of red berry.
Both wines are sourced from Maule Valley, Chile and will be bottled in the United States.
"Our Facebook fans, Twitter followers and women we meet in person have been asking us to bring them more wines. We love and appreciate our "fans", and we listen to them. We've taken their requests and input, held multiple tasting trials and are so excited to now offer these two new wines." says co-founder Debbie Gioquindo, CSW and wine blogger known as the Hudson Valley Wine Goddess.
Why a Pink Chardonnay?
"We're all about happy. Creating it, spreading it, and sharing it." says co-founder and author of Happy Bitch, Keryl Pesce. "Adding a splash of Cabernet Sauvignon to the Chardonnay not only creates a great tasting wine and pretty pink color, it's just more fun. It definitely makes for a happier glass of wine!"
How will their target market like the new wines?
"We had a few sample bottles and have given a few people sneak previews. When the unanimous response was for their faces to light up and ask us when they could get the wine, we knew we were on the right track." says Gioquindo.
"It's so fun to be in a position to make your own rules." Says Pesce. "Add to that, the fact that we are women, we really know our market, and we intuitively know what's going to fly."
The two wines will be available in New Jersey in June of 2013 and are distributed by Shorepoint Distributing Company in Freehold, New Jersey. Beginning July of 2013, the two wines are available in New York State through Empire Merchants North.
The wines will retail between $10.99 - $12.99.
About Happy Bitch Wines:
Happy Bitch is a brand that began when Keryl Pesce put her ex's affair and subsequent divorce to good use and wrote the book "Happy Bitch" to help other women overcome challenge and live happier. Living well IS the best revenge!
After being downsized, wine educator and blogger known as the Hudson Valley Wine Goddess, Debbie Gioquindo, CSW, responded to Pesce's Tweet asking for thoughts on producing a Happy Bitch wine. Seeing an opportunity to flip off the corporate world and follow her passion for wine, she teamed up with Keryl.
Turning sour grapes into delicious wine, Happy Bitch is a wine brand brought to you by two women who refused to let the crap life handed them keep them down.
For more information, please visit http://www.HappyBitchWines.com