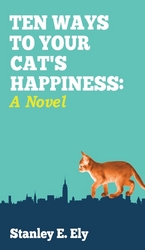 what shines as luminous in a person can reveal a different side within, leaving a friend to pick up the pieces
New York, NY (Vocus) October 18, 2010
A struggling writer attempts to jump-start his career in the cutthroat New York publishing world as he learns a host of transformative life lessons in Ten Ways to Your Cat's Happiness: A Novel (published by iUniverse), the light, fast-paced new fiction by Stanley Ely.
Evan McGorkle makes his home in Manhattan's Upper West Side near Columbia University with his two cats, Mickey and Falina. The author of two previously published historical romance novels, Evan has yet to find his literary niche. He has been unlucky in love as well, particularly in an on-and-off relationship with Dick Harbor, a successful neurologist.
Frustrated with his freelance editing gigs, Evan sets out to start work on a new book, determined to produce something with more commercial appeal. Inspired by his beloved cats, he approaches his publicist with the draft of his latest work, a lighthearted, tongue-in-cheek guide for how cat owners can keep their felines content.
Meanwhile, while his book is being pitched to publishers, Evan discovers that a fellow pet owner from his neighborhood, a sight-impaired man named J.J., has lost his seeing-eye dog. Resolving to help the man reunite with his canine companion, Evan continues to put the finishing touches on his manuscript as he reconnects with an old lover and enjoys the company of steadfast friends.
Follow Evan as he recalls his turbulent relationship with Dick Harbor, mentors to a young college student, searches for J.J.'s dog and attempts to quit smoking, among other things. With the iconic landmarks of New York City in the background, richly drawn characters emerge and shed light on campus life, Jewish traditions and more. Join Evan as he discovers that "what shines as luminous in a person can reveal a different side within, leaving a friend to pick up the pieces," Ely notes. Lose yourself in the intriguing pages of Editor's Choice book, Ten Ways to Your Cat's Happiness.
About the Author
Stanley Ely graduated from Northwestern University and Hunter College. A native Texan, he is an Army veteran, teacher and writer. He has published numerous articles, one play and four previous books: In Jewish Texas: A Family Memoir; Perfect Mondays; In the Steps of Mister Proust and Living Alone Creatively: How Twelve People Do It. Ely currently resides in New York City.
For more information, please visit the author's website at http://www.stanleyely.com and his blog at http://www.adviceon77th.blogspot.com.
iUniverse is a premier book publisher for emerging, self-published authors. For more information, please visit http://www.iuniverse.com.
###