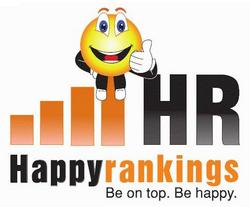 Cure Pay-Per-Click Addiction, cut Search Marketing Costs by 80%, and increase Web Traffic at the same time.
Miami, FL (PRWEB) February 3, 2010
HappyRankings.com a Miami-Based Search Engine Optimization (SEO) Company announced today that it has achieved and maintained # 1 Natural Search Rankings for the Highly Competitive Keyword "Business Loans"and other related Keywords worth over $232,200 in Traffic Value if obtained via Google Pay-Per-Click as explained on a Case Study published last week, beating Multi-Billion Dollar Competitors with Budgets exponentially higher.
HappyRankings CEO Marcio Andrade, explains that the $232,200 Traffic Value figure was derived directly from the Google Traffic Estimator and does not include the Traffic Value of Yahoo, Bing, nor any other Search Engine, and states that the total Traffic Value enjoyed by EZUnsecured easily exceeds $250,000 per Month, representing savings over Pay-Per-Click of well over 80%. HappyRankings.com states that such Rankings have been achieved and maintained consistently over the last 2 years using a mix of White-Hat SEO efforts.
"Pay-Per-Click Marketing is an extremelly effective Marketing Weapon, but it is also extremelly expensive and squeezes Advertiser's Profit Margins through the Search Engine's Automated Bidding Process. The end result is that Advertisers may have to spend 90 cents to make a dollar, and the Search Engines end up capturing most of the Profit Margin on each Sale. Advertisers, unable to achieve Top Natural Search Rankings for their most important and Highly Competitive Keywords, have no choice but to become addicted to Pay-Per-Click Marketing - They wish they didn't have to use it, but they can't stop from using it. It's a Love and Hate relationship with the Search Engines that can only be improved by achieving Top Natural
Search Rankings for their most important Keywords, and that is where the vast majority of Advertisers get stuck - That is the Limitation that keeps them from realizing the full power of the Search Engines and enjoying stronger Profit Margins. That is why I created HappyRankings.com - To bring a Final Solution to Pay-Per-Click Addiction and to allow Advertisers to reclaim their Profits and their Market Share of Search Traffic", explains Marcio Andrade about Advertiser's Addiction to Pay-Per-Click Marketing and HappyRankings.com Pay-For-Performance SEO Solution.
HappyRankings.com invites Companies currently getting the short of end of the stick on Natural Search Results to request a Free Pay-For-Performance SEO Proposal, and explains that HappyRankings.com can only accept one Client per Keyword Set to prevent any possible conflict of interest, and that qualified Clients are accepted on a first-come, first-serve basis.
###