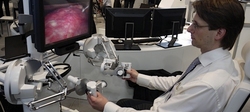 The sigma.7 offers the performance and accuracy required to operate the next generation of medical robots
Geneva, Switzerland (PRWEB) October 12, 2010
Force Dimension, a leader in medical haptics technology, released today the latest addition to its line of high-precision haptic devices. Initially developed for the German Aerospace Center (DLR), the sigma.7 haptic device was first presented to surgeons earlier this year as the core interface to operate a sophisticated new medical robot designed to perform minimally invasive surgical procedures. With the extensive dexterous capabilities offered by the new device, the surgeons were able to instinctively and accurately drive the surgical instruments to their exact desired location while feeling in their hands the fine contact forces exerted at the tip of the medical instruments.
"The sigma.7 is the embodiment of our most advanced 3D force sensing and actuation technology in a revolutionary master haptic device", said Patrick Helmer, Force Dimension's CEO. "The sigma.7 offers the performance and accuracy required to operate the next generation of medical robots that are currently under development by our industrial partners in Europe, North America and Japan."
The sigma.7 brings significant new capabilities to Force Dimension existing line of surgical master devices, which includes the award winning omega.3 currently integrated in the Sensei Robotic Catheter System. This leading-edge robotic device is developed and commercialized by Hansen Medical and is used today to precisely steer diagnostic or therapeutic catheters inside the human heart (video).
Force Dimension master input devices have also been integrated successfully with other types of medical equipment, including a robotic ultrasound imaging system developed by Philips Medical for diagnostic procedures (video).
In the area of aerospace technologies, Force Dimension's haptic systems have also been used in zero-gravity conditions by astronauts aboard a NASA C9 aircraft to operate a robot manipulator developed by SRI International (video).
Designed from the start as a seven degrees-of-freedom system, the sigma.7 is based on the proven parallel delta structure that is the trademark of all Force Dimension products. The innovative master input device features a powerful wrist which combines active forces, torques and grasping feedback capabilities. The sigma.7 is the first haptic system of its kind to display such high stiffness and forces while still providing full gravity compensation and haptic transparency. The end result is a unique feeling of strength and lightness to the operator.
"To build a truly different interface, we had to go back to the drawing board and even rethink the design of our motors." said Patrice Rouiller, Force Dimension's CTO. "Today our new actuators bring unprecedented performance to possibly the most advanced haptic device ever made."
The sigma.7 can be integrated into single or bi-manual master consoles, with both right- and left-handed configurations. The first sigma.7 systems are expected to ship by early 2011.
For more information, please consult the Force Dimension website.
About Force Dimension
Force Dimension is a privately-held company with headquarters in Nyon, Switzerland. Force Dimension designs high-end force-feedback technology for demanding environments in the areas of medical robotics, aerospace, industry, computer imaging and 3D simulation. Force Dimension designs and manufactures high-precision haptic (force-feedback) devices, including the delta.x, omega.x and sigma.x range of haptic devices, and provides a complete set of hardware and software solutions to assist in creating force-enabled end-user applications. Force Dimension technology is used by a broad range of applications and partners, from OEM components in highly specialized medical equipment (Hansen Medical), to the entertainment and gaming markets (Novint Technologies).
# # #