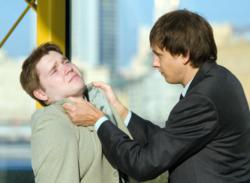 Our people know we support them and they can come to us with any problem.
Dallas, TX (PRWEB) June 14, 2013
Jim Case Carlton's Training Solutions has recently strategized to implement more harassment training videos into their curriculum. Proper working conditions must be provided to staff to do their best. In recent years this has been a more dire situation for organizations. Harassment training videos from Jim Case Carlton's Training Solutions help to promote a warm, friendly working atmosphere.
Every year lawsuits are filed and in 2011 the EEOC reports that over 100 million dollars were awarded in damages based on race, religion, national origin, age, disability, and gender. And this statistic doesn't even include the high-risk category of sexual harassment. And there are several complaints filed by employees that are never followed through on or awarded any damages.
A harassment training video like In This Together focuses on the general issues that employees face in all realms of discrimination in the workplace. Who can employees talk to? What is a manager's role in handling these situations? Most importantly how and where does an employee voice their concern early enough to prevent these situations from even occurring? Harassment training videos address these concerns so companies have a plan of action to preserve the rights of their workers.
Harassment Hurts: It's Personal is a workplace harassment training video that helps employees and managers understand what constitutes acceptable behavior and what doesn't. Employees are given guidance as to how to avoid these situations and what negative consequences will result from this behavior. This workplace harassment training video enables employees to feel safe and secure enough to speak up about their situation and know whom to speak up to.
Harassment videos tackle the subject most employees and companies fear. But rather than be frozen by fear the programs offer a voice that is separate from a manager or someone they know and through a character and scenarios employees can freely visualize how harassment occurs. Thereafter they are empowered through the harassment video to contact someone in the organization. "Our people know we support them and they can come to us with any problem," says Patricia Mason of Pillsbury.
Jim Case Carlton's Training Solutions also assists companies with use of their sexual harassment training videos and diversity training videos. Ultimately their programs inspire and help create better partnerships and work relations. To view free online previews of their programs, learn more about their harassment training videos or this organization, click here on their site at Jim Case Carlton's Training Solutions.