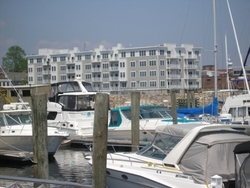 Both Developers want to emphasize the success they have experienced with their projects and this initiative is not a sign of financial difficulty. The developers are looking for a shorter sales cycle by offering the condominiums well below their appraised value
New London, CT (PRWEB) October 11, 2008
Cathartes Private Investments, developers of Harbor Club Condominiums, and Oaktree Development, developers of Shaw's Landing, two exclusive waterfront condominium communities in New London CT, jointly announce a sealed bid close-out of selected new remaining condominiums.
More than 20 waterfront condominiums, ranging in price from $49,900 to $309,900, are planned to be sold via sealed bid. The minimum sealed bid set for these waterfront condos is well below the appraised value of other similar properties on the Connecticut shoreline. Sealed bids will be accepted beginning October 3, 2008 and will be opened on November 2, 2008.
"To accelerate the final sales pace at these successful waterfront properties it makes good fiscal sense for both developers to join together, share marketing expenses and implement the sealed bid close-out strategy to reach a large segment of buyers. This is a limited opportunity to purchase waterfront real estate in CT at an incredibly affordable price," said Cheryl Desmond, director of marketing and sales or both Harbor Club and Shaw's Landing.
"We believe the combination of waterfront location and luxury features at both communities will attract a diverse mix of vacation and second-home buyers, first-time buyers, empty nesters and investors. These lower prices are meant to attract serious buyers who want to live in an established community in a great location," said Jim Goldenberg, principal of Cathartes Private Investments and developer of Harbor Club Condominiums.
Gwendolen G. Noyes, a partner with Oaktree Development and developer of Shaw's Landing agrees. "These lower prices, at lower than appraised values, provide an unequalled opportunity for buyers to invest and live on the CT Shoreline," Noyes said.
"Both Developers want to emphasize the success they have experienced with their projects and this initiative is not a sign of financial difficulty. The developers are looking for a shorter sales cycle by offering the condominiums well below their appraised value," said Desmond.
For details on both properties and the sealed bid process, visit their web sites or schedule a visit daily between 11-5 p.m.
About Harbor Club: http://www.HarborClubCT.com 860-444-8884 184 Pequot Avenue
Harbor Club is set in the Marina District in New London, CT and has a dock and moorings on the Thames River making it a perfect pied-a-terre for those seeking the lively social life of a marina community. Studio, 1 and 2 bedroom condos include hardwood floors, stainless steel appliances, granite countertops and under-counter lighting, as well as granite tile in the bathrooms and dedicated storage for each home. All the homes come with appliances including washers and dryers. Harbor Club also has its own fitness center, media room with 73-inch screen television and leather club chairs, off-road parking and an elevator.
About Shaw's Landing: http://www.ShawsLanding.com 860-442-7724 400 Bank Street
Shaw's Landing is set in the Historic District overlooking the Thames River and Crocker's Marina. In a walk-to-town location, Shaw's Landing offers 2 and 3 bedroom condominiums with water views. Amenities include a private function room, balcony and outdoor patio directly overlooking Crocker's Marina, a fitness center with a sauna, private gated and garage parking, storage and an elevator. Condos include granite countertops, under-counter lighting, hardwood floors, tiled bathrooms and spacious floor plans.
About New London CT
New London reflects its colonial seaport history in architecture and design, but its old New England past is bowing to a rebirth of cultural richness and revitalization. New London's proximity to traditional and modern destinations, from the Coast Guard Academy and Maritime Museums, to Foxwoods and Mohegan Sun Casinos, make it a hot spot coastal community. This is a developing city of new restaurants, shopping and entertainment - including nightlife - with immediate access to Block Island, Fisher's Island, Orient Point and trains to NYC and Boston. New London Waterfront on the Thames River is just five minutes out of Long Island Sound and a very short trip to New York City.
Cheryl Desmond is a Sales Director at PrimeTime Communities, a Littleton, MA real estate marketing, sales and consulting firm established in 2003. http://www.Primetimecommunities.com
###