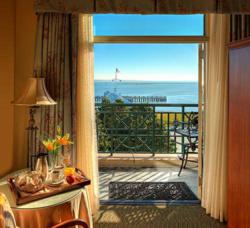 (PRWEB) August 08, 2012
The HarbourView Inn, located in downtown Charleston, is currently ranked number four on TripAdvisor for hotels in Charleston. Sitting high among the 53 hotels in Charleston that are ranked, this is a huge accolade for The HarbourView Inn.
TripAdvisor is a well-renowned travel website that rates everything from restaurants to flights to hotels. Not only are the companies on the site rated, but various information is available for travelers. Patrons who have visited these places can log onto the site and write custom reviews about the restaurant, airline or accommodations. The site has over 32 million members and over 75 million reviews and opinions have been written.
The HarbourView Inn is located on the waterfront in the historic district of Charleston. This classy, boutique hotel is the ideal place for retreat and relaxation. Rooms include panoramic views, some with fireplaces, whirlpools or private balconies. With its view overlooking the beautiful Charleston waterfront, at the inn you can sip on a glass of wine during the afternoon wine and cheese reception, go for a stroll along the pier, relax on the rooftop terrace or enjoy complimentary milk and cookies in the lobby in the evening.
Explore the city's restaurants, shops and parks by foot or take a ride on one of the many horse-drawn carriages. Hop on a boat to view the USS Yorktown at Patriot Place, the Ravenel Bridge or just the sights and sounds of the Charleston Harbor. Staying at The HarbourView puts you in the perfect location to enjoy the surrounding 300 acres of Historic Charleston.
The Harbourview Inn often runs specials and is currently offering eight different packages, each focusing on something unique about Charleston. For more information on these packages or to make reservations, visit http://www.harbourviewcharleston.com.