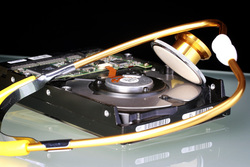 If you are having trouble with a hard disk drive and need to recover data, or even if you are feeling daring enough to attempt a repair, visit Repair4HardDisk for tips and tricks for success
Berlin, Germany (PRWEB) March 18, 2009
Hard disk drive repair and data recovery usually requires special and expensive equipment, as well as expert knowledge. But for those who don't have the time, effort or money to get professional support, there is Repair4HardDisk, a new Web directory of hard disk drive-related sites, featuring free do-it-yourself repair and recovery guides for hard disk drives (HDDs) from a number of different manufacturers.
"If you are having trouble with a hard disk drive and need to recover data, or even if you are feeling daring enough to attempt a repair, visit Repair4HardDisk for tips and tricks for success," says Werner Heuser of Repair4HardDisk. "Repair4HardDisk is the premier Web site to visit for otherwise difficult to find information about resurrection methods for broken or damaged HDDs."
Data is often very precious and should be handled with care by professionals. However, there are cases where individuals may consider performing the data recovery service themselves rather than pay for professional services:

Professional data recovery services are often expensive. Sometimes data isn't worth the cost of recovery services because it can be recovered manually. In such a case, Heuser says, it's nice to be able to recover the data yourself for free or at little monetary cost.
Individuals may not want to reveal secret data stored on a HDD to others, not even to professionals obligated to handle data in a trustworthy manner.
Professional services may take time to recover data. If time is of the essence, do-it-yourself data recovery can be a time saver.
People who are true geeks may find tinkering with a dead hard disk drive a strong challenge and measure of skill.
All guides available from Repair4HardDisk apply to both 3.5-inch desktops HDDs as well as 2.5-inch laptop and notebook HDDs. Repair4HardDisk also features special sections with guides that explain how to:

build self-made HDD racks and HDD mounting techniques
mount a HDD into an external HDD enclosure
cover all the silencing techniques known to get rid of a noisy and disturbing HDD
In instances where an HDD has gone beyond resurrection, Repair4HardDisk also features modding ideas for dead drives.
"With a vast range of informative guides, Repair4HardDisk is a truly unique site featuring everything individuals need to know to complete costly hard disk drive repairs on their own," Heuser says.
For more information on do-it-yourself tips and guides for repairing hard disk drives, visit http://repair4harddisk.org/.
# # #