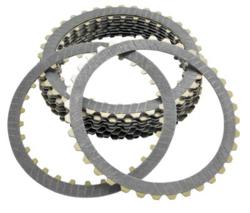 Harley Davidson motorcycle clutch
Tampa, FL (PRWEB) October 14, 2011
Hardcore Clutches is proud to introduce their "Carboncore" Series. Designed to handle higher temperatures and withstand more abuse.
This high performance clutch kit also includes Kolene treated Steel plates for extra durability and helps keep your clutches running cool!
They went the extra mile on these clutches and greatly increased the surface areas for some incredible holding power.
Hardcore Clutches designed the Carboncore Series with the same type of materials that are used on 600+ horsepower race car clutches. Just as the name implies, they are composed of a "carbon" base along with some other specialty materials. After countless hours of research and development we concluded that these clutches are really kick butt!!
The clutches are currently available for Harley Davidson motorcycles that are equipped with the Big V-Twin, Sportster, and Buell setups.
The Hardcore Bike Store is also offering Free Ground Shipping within the contiguous USA. To learn more about these amazing clutches, call 888-WE-HARDCORE or visit their website at http://www.hardcoreclutches.com
###