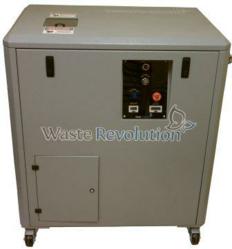 In an increasing digital world, the need to secure proprietary company and customer data, and the demand for data destruction tools and services will inevitably grow, making the E-Nihilator indispensible to IT security professionals.
Los Angeles, CA (PRWEB) May 02, 2011
Following on the heels of a successful launch of its compact hard drive shredder at the ISRI Convention, Waste Revolution™ brings its innovative shredding technology to Interop Las Vegas 2011, happening May 8-12, 2011 at the Mandalay Bay Convention Center.
"We had a great response at the ISRI show, where almost every visitor who witnessed the demonstration of the E-Nihilator had very positive comments or expressed a serious interest in purchasing one. The E-Nihilator's simplicity, mobility and affordability were the often mentioned attributes from professionals in the recycling and data destruction industries, which we take as the highest compliment," says Raymond Yu, Business Development Associate.
The E-Nihilator casts a small footprint, measuring only 44" high, 38" wide, 25" deep, but has a large 3HP motor that enables it to destroy up to 7 hard drives per minute with minimum noise, vibration and maintenance, while achieving maximum compliance with all regulations and industry standards, such as HIPPA, PCI DSS, FACTA, GLB Act, Sarb-Ox, etc.
"Based on our many years of experience recycling electronics, the E-Nihilator line was engineered to meet our S.H.R.E.D. standards-- Safe, High-capacity, Rugged, Easy-to-use, and Destroy-- at a price point that offers exceptional value. This makes the E-Nihilator a perfect tool to protect any business, organization and its employees, clients, or patients from identity theft or other corporate data security concerns," says Mariela Vargas, Business Operations Supervisor.
For CTOs/CIOs and other Information Technology managers, the E-Nihilator now makes "in-house" hard drive shredding more cost effective and convenient. Destruction of confidential documents and data contained on hard drives or other digital storage devices is best left to carefully selected and trained IT employees who can be held responsible under strict and monitorable guidelines, rather than unknown third parties.
Adds Business Development Director John Kim, "In an increasing digital world, the need to secure customer data, business plans, proprietary R&D, and financial/payroll data, and the corresponding demand for data destruction tools and services will also inevitably grow, making the E-Nihilator indispensible to IT security service providers in creating a new, profitable revenue stream. Needless to say, we anticipate many new partnerships among the IT professionals at Interop!"
The E-Nihilator will be demonstrated at Waste Revolution's™ Interop Booth #658 in Mandalay Bay Convention Center, Las Vegas, May 10-12, 2011. Waste Revolution™ representatives will be on hand to answer questions and take purchase orders at special tradeshow pricing.
About Waste Revolution™
Headquartered in Commerce, California, Waste Revolution™ is the specialty products arm of eWaste Center, Inc., a licensed electronics waste recycler servicing Southern California and the greater Seattle, Washington area. Waste Revolution™ distributes globally innovative recycling equipment designed to divert waste from landfills and maximize the recovery of assets & commodities. For more information and video of the E-Nihilator shredder, please visit the company's website at http://www.wasterevolution.com, or call (888) EWASTE-8. eWaste Center, Inc., is a certified Disadvantaged, Minority-Owned, and Woman-Owned Business Enterprise (DBE/MBE/WBE).
About Interop ®
Interop® drives the adoption of technology, providing knowledge and insight to help IT and corporate decision-makers achieve business success. Part of UBM TechWeb's family of global brands, Interop is the leading business technology event series. Through in-depth educational programs, workshops, real-world demonstrations and live technology implementations in its unique InteropNet program, Interop provides the forum for the most powerful innovations and solutions the industry has to offer. For more information about these events visit, http://www.interop.com.
# # #