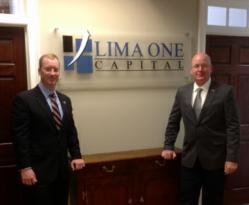 Our professionalism, integrity and customer service, give clients a real alternative to traditional hard money lenders who are poorly capitalized and ridden with high rates and junk fees.
Atlanta, GA (PRWEB) August 29, 2012
Six years ago, John Warren and John Thompson were commanding Marines in a hard fought counter-insurgency in the "world's most dangerous city" of Ramadi, Iraq.
Today, however, the leaders of Lima One Capital, LLC, are shepherding $20 Million in funding for their fast-growing, residential hard money lending company with a new mission: revolutionize and stabilize the residential real estate industry by providing first-mortgage loans to real estate investors seeking to purchase and renovate distressed homes.
Instead of M-16 rifles, their new weapons of choice derive from the company's highly competitive rates, transparent terms, unmatched operational efficiency, great customer service, and fast closings.
"We love the real estate investing industry because we recognize the social and economic impact that our clients have on communities and the economy as a whole," says CEO John Warren.
Lima One Capital currently lends in South Carolina and Georgia, with Atlanta representing its largest market. The company will add North Carolina to the lending lineup next month as part of its domestic expansion.
"Our professionalism, integrity and customer service, gives clients a real alternative to traditional hard money lenders who are poorly capitalized and ridden with high rates and junk fees," explains Warren. "We quickly became the premier Atlanta hard money lender for real estate investors purchasing properties in Atlanta and we plan to bring that same model to each new market we serve," Warren adds.
Clients of Lima One Capital span the globe. "We serve 'hands-on' real estate investors in Atlanta, passive investors throughout the U.S. and seven foreign countries," states COO, John Thompson. "We do more than average Atlanta hard money lenders who just provide clients with capital. We ensure deals will be successful with our underwriting and construction draw processes. Additionally, we can introduce clients to our extensive network of real estate professionals who will assist them with property acquisition, construction and sales. We are a one stop shop for investors."
It's a convenience Lima One Capital client Dr. Larry Pohl appreciates. Pohl, who practices internal medicine in San Diego, invests in residential real estate in his free time. "Not only was Lima One Capital professional and friendly, but we were able to secure a fair financial package and close within five days" Pohl said. "I would recommend this company very highly without reservations for anyone needing loans for rehabilitating projects," he added.
Lima One Capital clients' represent the ever-growing segment of investors within residential real estate. Recent market studies show that 27% of all homes purchased in the U.S. are by investors planning either to rent the property or "flip" the property to an owner-occupier or another investor. Because most of these investment properties require significant construction, banks hesitate to lend on such collateral, leaving a void for investors seeking to leverage their capital.
Karina Miles is proof why this leverage is so vital to investors. Miles made a down payment of $23,780 on an investment property and elected for Lima One Capital to provide the remaining $98,924 to complete the project. In just over three months, Miles' contractor finished the project and the property sold for $191,000. Miles walked away from the deal with a profit of $53,512 and a return on her investment of 191%. Meanwhile, she was able to purchase two additional investment properties using Lima One Capital loans. Without Lima One Capital, Miles would not have chosen to fund three projects simultaneously. "It has been a pleasure working with them and every step of the way they have been able to answer questions and lead me in the right direction with any assistance I might need," Miles said.
Lima One's attention to detail, dedication and service was forged in combat. Warren founded the hard money lending company in January 2010 in Atlanta, paying tribute in name to the Marines he commanded in 1st Platoon, Lima Company, 3rd Battalion, Eighth Marines. Thompson also served in Lima Company as the unit's company gunnery sergeant. "There was no other Marine I respected more than John Thompson. We developed a great working relationship while deployed in Ramadi, and I knew his operational skills complimented my strategic planning," said Warren.
About Lima One Capital, LLC
Lima One Capital is a hard money lending company in Atlanta, GA and Greenville, SC specializing in providing first mortgage loans to real estate investors for the purchase and renovation of residential investment homes. Lima One Capital is transforming the hard money lending industry with its highly competitive and straightforward rates, the length of its loans, and its unmatched customer service. The company offers several loan lengths and can typically close within seven days, providing clients with the ability to capitalize on unique opportunities in the real estate market, immediately. Lima One Capital is revolutionizing the industry standard for residential real estate investment lending.
For more information, visit us here.