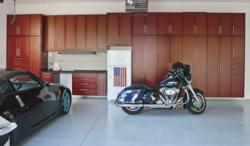 "We really try to put ourselves in the position of our customers prior to designing and producing any solution we develop"
South Beloit, IL (PRWEB) January 31, 2012
To keep up with growing demand for its custom built products, RedLine Garagegear recently debuted its highly anticipated new garage workbench line. Like most all of the storage solutions offered by the wood powder coating manufacturer, workbenches come in a plethora of sizes, configurations, styles, and colors. Customers can choose to have their workbench stationary, moveable by way of casters, or built right into a full garage storage system. "Our process for research, development, and testing is actually quite rigorous", said Troy. Before a system is made available to the public, RedLine conducts in house tests to ensure the quality, usability, and functionality of all its products.
Where does one find a system to store the lawnmower, snow blower, and other bulky items? Is there a custom built solution for storing and organizing easily lost or misplaced parts like nuts, bolts, and nails? If one wants to be able to take the tools and work station to the project, what tailor made solution is available?
These are just a few of the questions that RedLine Garagegear asks and answers when researching and developing new garage organization product lines. "We really try to put ourselves in the position of our customers prior to designing and producing any solution we develop", said Troy Greenberg, President. This could prove to be quite difficult for any other large manufacturing company but for RedLine it has always been very natural as its employees are also customers.
RedLine Garagegear is based in South Beloit, IL which is roughly 80 miles west of Chicago, IL, 40 miles south of Madison, WI, and an hour outside of Milwaukee, WI. Having been in operation since 2000 RedLine has seen the highs and lows of manufacturing in the United States. Despite the rough patches, the company is still at the forefront of producing garage storage systems.
RedLine Garagegear also announced production of its garage closets for storing heavy and bulky items that are usually housed in the garage. Lawnmowers, snow blowers, and other such items can easily be accommodated with a custom made garage closet. "Other companies are offering closets that are not built to withstand typical garage conditions", added Troy. "Our garage closets are designed and produced to hold up under the most strenuous of conditions, treatment, and circumstances".
Another highly sought after product produced by RedLine Garagegear is the storage bin for parts like nails, nuts, bolts, and screws. The manufacturer had maximum organization in mind when developing the storage bin. "For many homeowners, do it yourself enthusiasts, and handyman service providers the storage bin system works far better than a traditional toolbox", said Troy.
RedLine Garagegear has proven itself as the market leader in garage cabinets and storage systems. The company prides itself on being able to produce quality, custom products without the high cost generally associated with a custom manufactured job. Anyone struggling to find that perfect solution to a storage problem should seek out the assistance of this highly touted manufacturer.
Redline Garage Gear is the child company of Greenberg Casework Company. Greenberg Casework Company is a manufacturing company supplying custom cabinetry, casework and store fixtures to the business and building industries. The company has been in existence since 1985. Greenberg Casework Company has three cabinet component lines: Redline Garagegear, Redline Closet Systems , and GCC Coatings products. In addition, the company manufactures components and powder coated parts for OEM manufacturers and store fixture companies. http://redlinegaragegear.com
###