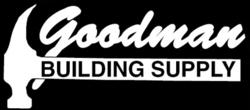 We're going to match up to $2,500 dollars for a total donation of $5,000 dollars, and I'm pleased to say that with the contributions so far, we are almost half way there
Mill Valley, CA (PRWEB) December 11, 2012
Goodman Building Supply is not only Marin County's trusted hardware store, but is also a company that is highly dedicated to the community and the environment. Because of its position as a leader in disaster preparedness, including working with the Marin Municipal Water District, GetReadyMarin.org and the Mill Valley Chamber of Commerce Disaster Preparedness Committee, Goodman Building Supply is acutely aware of the tragedy that can beset a community when it's hit with a major catastrophe. For this reason, Goodman Building Supply has joined many other like-minded businesses in raising funds for the American Red Cross to aid the East Coast victims of Hurricane Sandy.
"We're going to match up to $2,500 dollars for a total donation of $5,000 dollars, and I'm pleased to say that with the contributions so far, we are almost half way there," Zviki Govrin, Goodman's vice president and general manager, said.
Weather events like Hurricane Sandy should be a warning sign for Bay Area and Marin County residents in particular, since the North Bay gets the Bay Area's heaviest rainfall and is most susceptible to flooding. In addition, there is the earthquake issue. Goodman Building Supply encourages homeowners and Bay Area residents to begin preparing for disasters now.
For basements that may flood, now is the time to get a pump, a backup battery, or have a current pump serviced. Goodman Building Supply also carries sandbags.
"Lastly, Goodman encourages everyone to have an emergency preparedness kit assembled in the event that Mother Nature decides to get angry," Govrin said.
An emergency preparedness kit at Goodman Building Supply consists of two 5-gallon plastic buckets with re-sealable lids; a 24-pack of 8-gallon plastic bags; an emergency radio/flashlight; a heavy duty flashlight; a Leatherman all-purpose tool; two outdoor blankets; Duct tape; a wrench for gas shut-off; a first-aid kit; a fire extinguisher; shears; a pair of heavy-duty gloves; a 24-roll of heavy duty garbage bags; a small lantern; one-pack of emergency candles; and a pick/shovel. The store can also custom design an emergency kit according to the customer's requirements.
For more information about disaster-related products, call Goodman Building Supply at 415-388-6233, view the hardware store on the Web at http://www.GoodmanBuildingSupply.net or visit 775 Redwood Highway in Mill Valley.
About Goodman Building Supply
Goodman Building Supply is a Marin hardware store that specializes in an array of building materials, construction supplies and home improvement resources. Its services consist of, but are not limited to, key cutting, glass cutting, garden services, barbecue delivery and assembly, pipe cutting, lamp repair, lumber service, color matching, paint services, and pool/spa water testing.