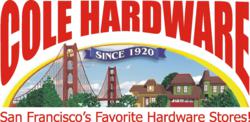 We're more than just a hardware store. We feed your soul. People who get that are happy to shop with us.
San Francisco, CA (Vocus/PRWEB) February 03, 2011
Cole Hardware, San Francisco's environmentally friendly power tool retailer and home repair specialist, offers discount days for community schools and non-profits. Members of groups that choose to participate in the Cole Hardware Community Partnership Program can enjoy special discounts and deals, while individual members of the Cole Hardware Rewards Program can donate part of their purchases' proceeds to one of the 500+ schools and non-profits already registered.
Cole Hardware specializes in good old-fashioned customer service and strives to be an active and valued member of the community. But Cole Hardware goes beyond enriching the lives of San Franciscans-- it emulates their values. The first hardware store to receive national green-recognition is certainly in touch with its progressive, inclusive, sustainably minded customer base.
This year, Cole Hardware has replaced its distribution of water bottles with the sale of reusable shopping bags. Founder, Dave Karp's statement, "there are no strangers here, just friends we haven't met" best exemplifies the closeness of the store to its community.
Dave's son Rick now runs the family business, which has grown to include four stores conveniently located in Cole Valley, Bernal Heights, Russian Hill, and SOMA. Rick, the self-proclaimed "Keeper of the Karma" prides himself on his commitment to the public to make his store the best place to work and shop.
"We're more than just a hardware store. We feed your soul," says Rick Karp of Cole Hardware. "We try to be everything to everybody and try to basically keep the karma high in your life as well as our own. People who get that are happy to shop with us."
Even his father Dave can still be known to throw on a vest and offer his expertise to customers at the store on Mission St. There, he serves as just one of the knowledgeable staff members who help customers with their projects, training, and repairs.
Cole Hardware's free Re-COLE-mend program matches customers with tradespeople to suit every need. With specialists in lock repair, electrical repair, and general home repair, there is always a friendly face to help re-cole-mend the newest shade of Benjamin Moore paint, or the right kind of topsoil from the garden center.
Interested in becoming a member of the Cole Hardware Community Partnership Assistance Program? Send an email to service(at)colehardware(dot)com with the relevant organization's name, address, phone number, email, tax id number.
For more information regarding the new Cole Hardware Rewards Program or any other Cole Hardware product or Service call (415) 742-8306 or visit colehardware.com
About Cole Hardware
Cole Hardware is a San Francisco retailer with four locations that specializes in old-fashioned customer service. The first green-recognized hardware store in the nation, offering traditional hardware fare including paint, manual and power tools, electrical and plumbing supplies, housewares, garden and cleaning products, Cole Hardware also offers a range of services including lock smith services and a home repair referral service.
Renowned for their exemplary customer service by the thousands of people who walk through their doors, Cole Hardware crew members answer countless questions to help their customers solve problems. Re-COLE-mend, the free repair referral service, offers customers vetted tradespersons ranging from plumbers, electricians, handymen, gardeners, general contractors and more.
# # #