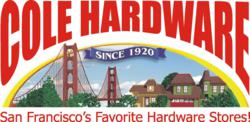 We understand that sometimes it is just too difficult or impossible to leave the house or your workplace. We have days like that too
San Francisco, CA (Vocus/PRWEB) April 12, 2011
Cole Hardware knows that shopping can be a hassle, so they are making things easier by providing delivery anytime, any day, anywhere in San Francisco.
"We mean it," said Rick Karp of Cole Hardware. "Our ability to deliver is not limited to a destination, time of day, or day of the week. Our Rewards customers just have to tell us what they need."
The offer is available from any of Cole Hardware's four store locations in San Francisco. The San Francisco hardware leader realized many people in the city do not have vehicles or cannot otherwise load or unload heavy items from their vehicle and came up with this convenient solution.
"We understand that sometimes it is just too difficult or impossible to leave the house or your workplace. We have days like that too." Karp said. "There are a myriad of reasons why shopping can be a hassle. We get it, and want to eliminate them."
As of March 28, customers can use the free delivery service - they just need to be a member of Cole Hardware Rewards program or sign up at the time of delivery. It's free, very quick and easy. Free delivery must be scheduled for the next day or later.
For more information on Cole Hardware's delivery service or any Cole Hardware product or service call (415) 742-8306. Visit them online at colehardware.com or email service(at)colehardware(dot)com.
About Cole Hardware
Cole Hardware is a San Francisco home repair and hardware company with four locations that specializes in locksmith services and customer service. The San Francisco garden center and first green-recognized hardware store in the nation offers traditional hardware fare including Benjamin Moore paint, manual and power tools, electrical and plumbing supplies, housewares, garden and cleaning products, Cole Hardware also offers a range of services including a home repair referral service.
###