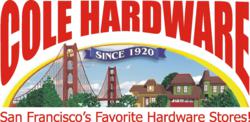 In 1961, a sign went over the register at Cole Street Hardware, 'There are no strangers here, just friends we haven't met
San Francisco, CA (Vocus/PRWEB) June 03, 2011
Dave Karp, the venerable owner and founder of award-winning Cole Hardware store, is proud to announce he is turning 95 on Saturday, June 4th. He wants to celebrate his birthday, as well as his 50 year legacy in the hardware business with a get-together from 11 am to 1 pm at the Cole Street store on June 4, 2011. Everyone is encouraged to drop into the store to enjoy a piece of cake, watch Karp perform a card trick and to say hello. Karp is also offering customers a discount.
"It's my birthday," said Karp. "20% off for everyone!"
In his half-century in the hardware business, Karp has served many a colorful character from hippies to starving rock stars—all with a smile and a kind word or a joke. On the occasion of his 95th birthday, the Cole Hardware newsletter Hardware Hotline, caught up with Karp to get some insight and memories of San Francisco when he was young:
"When I was a kid in the 1920s, San Francisco had two minor league teams: the Seals and the Mission Reds. They both played at Seal Stadium at 16th and Bryant. I worked the stands hawking snacks when I was about ten years old. I would yell: 'Peanuts, Homerun Kisses, chewing gum and all kinds of candy.'"
"In 1961, a sign went over the register at Cole Street Hardware, 'There are no strangers here, just friends we haven't met,'" says Dave's son and president of Cole Hardware, Rick Karp. "That was the first day that Dave Karp took over the store he just purchased on Cole Street. Fifty years ago, when my father was 45, Cole Street Hardware became part of my family. I was ten."
All stores are celebrating Dave's birthday with a 20% off bucket sale. Whatever fits (or doesn't fit) inside the bucket, receives a 20% discount and the bucket for free, while supplies last.
For more information on Cole Hardware's delivery service or any Cole Hardware product or service call (415) 742-8306. Visit them online at colehardware.com or email service(at)colehardware(dot)com.
About Cole Hardware
Cole Hardware is a San Francisco home repair and hardware company with four locations that specializes in locksmith services and customer service. The San Francisco garden center and first green-recognized hardware store in the nation offers traditional hardware fare including Benjamin Moore paint, manual and power tools, electrical and plumbing supplies, housewares, garden and cleaning products, Cole Hardware also offers a range of services including a home repair referral service.
# # #