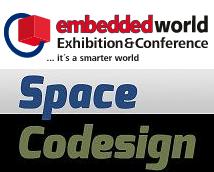 We have been receiving interest from commercial clients in areas such as multimedia and mobile electronics, and the hiring of a European Operations Director is part of our plan to meet these new opportunities locally
Montreal, Quebec (PRWEB) February 21, 2013
Space Codesign® Systems, a developer of an end-to-end automated ESL hardware/software codesign tool, announced today the hiring of Jean-Jacques Vallotton as the company's European Operations Director. The addition of Vallotton comes in time for Space Codesign's participation at the Embedded World 2013 conference, taking place in Nuremberg, Germany, between 26 and 28 February 2013.
With the global economic slowdown, the European electronics industry is seeking creative solutions for its challenges. In order to maintain their international leadership, European electronics and semiconductor organizations are striving to shorten the product development process while maintaining the high quality of their products.
Focused on improving the design process of embedded systems, Space Codesign's solution, SpaceStudio™, assists systems architects in performing end-to-end hardware/software co-design automatically from high level functional specification to the architectural and RTL (Registered Transfer Level) coding phase. As a result, there is no more need to recode in VHDL from C/C++, change memory mapping or to be restricted to predefined hardware. With a unique drag-and-drop mechanism to move functionality between hardware and software domains, SpaceStudio enables electronics organizations to accelerate embedded systems design development, lowering costs while easing system-on-chip (SoC) design implementation (both Programmable or ASIC) and create better quality embedded systems code.
The company has been collaborating with the European Space Agency and ISAE, the aerospace engineering school and research center at the University of Toulouse, in France. "We have been receiving interest from commercial clients in areas such as multimedia and mobile electronics, and the hiring of a European Operations Director is part of our plan to meet these new opportunities locally" said Guy Bois, Space Codesign's President and Co-founder.
Vallotton brings an impressive range of skills and experience to Space Codesign's team. Holding an M.Sc. in Electronics, and with a strong background in technology, business development and corporate finance, including experience at Philips and with i-Logix (now IBM) and Comdisco Systems (now Synopsys), Vallotton will cover Europe, the Middle East and Africa.
Vallotton joins Space Codesign ahead of Embedded World. Space Codesign will be be giving a presentation at 10:00 AM on February 26 as part of the Exhibitors Forum, in Hall 2 of the Nuremberg Messe. The company will be exhibiting in Hall 4, Booth 4-608. Contact Space Codesign to arrange a demonstration of SpaceStudio's capabilities, or visit their website to learn more about the end-to-end automated FPGA system-on-chip design technology with hardware software co-design.
About Space Codesign Systems
Founded in 2008, Space Codesign® Systems, Inc. is the developer of SpaceStudio™, the only ESL (Electronic System Level) design technology that enables end-to-end automated hardware/software co-design - from high-level functional specification to the architectural and RTL (Registered Transfer Level) coding phase, enabling electronics engineers to enjoy a higher level of abstraction and executable representation for embedded systems design in aerospace and commercial multimedia applications. SpaceStudio is distributed in Canada, US, Europe, the Middle East and Africa. In the US west coast, EDATechForce handles Space Codesign's sales.