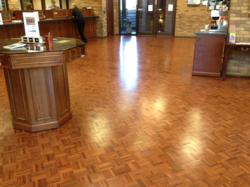 Unsurpassed Customer Service
Milwaukee, Wisconsin (PRWEB) January 17, 2013
Royal Wood Floors, Inc is a leader in its class. The excellent service is provided by implementing superior and professional examination and consultation for every new and existing customer. Royal Wood Floors Inc.'s high praises are also due to their consistent reasonable pricing structure without compromising on quality.
Royal Wood Floors Inc is a company that can handle all hardwood flooring needs from refinishing, sanding hardwood floors, hardwood floor buffing, to installation. The best hard wood floor services are personalized with each and every client, where a visit to a home and a free no obligation quotation are always provided as the starting point for any hardwood flooring service. An expert technician is available to provide multiple types of service options, also, dialogue is open with customers who receive advice on the most appropriate materials and services that are intended to enhance an owner's property.
Royal Wood Floors Inc. uses only the highest quality hardwood flooring supplies available and installs leading manufacturer's products, which not only transform the appearance of a home, but also improve the value to each and every property.
Royal Wood Floors Inc currently provides the following flooring services:

Royal Wood Floors Inc is on the cutting edge of innovation and home design service. The company advises their customers throughout the entire process from ordering and installation, to the completion of the job.
Royal Wood Floors Inc.'s website is an informative web portal for visitors to gain new ideas from and to learn more about their desired product selection and services offered. Their cost effective pricing keeps folks coming back, and the company looks forward to servicing all their highly valued current and future customers with unsurpassed customer service.
Royal Wood Floors, Inc.
4425 A N. 66th Street
Milwaukee, WI 53218
Learn more by visiting http://www.royalwoodfloor.com