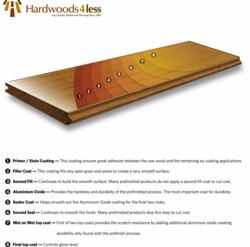 We are please to announce our affiliation with houzz.com, an excellent resource for all DYI folks
Greensboro, NC (PRWEB) July 24, 2012
Surpassing industry standard Red Oak hardwood flooring, Hickory hardwood flooring is gaining popularity among stylish and price-conscious homeowners. The domestic flooring offers some of the most requested features of exotic hardwoods, but at a lower price.
"We've seen an increase in sales of our Hickory hardwoods starting this summer," says Clayton Peebles, owner of Hardwoods4less. "And we get several calls each week from homeowners asking about the species. It's become one of our most popular domestic hardwoods. New sites like Houzz.com have recently increased the public awareness of different hardwood flooring opitons. We are pleased to announce that we are recognized as a professional vendor with Houzz.com"
Some reasons for the rise in popularity include the two-color variation, affordability, and the species' durability.
Two-tone flooring is currently on trend and makes a bold interior design statement. The color variations of Hickory also lend it to a host of interior design styles, fitting for a range of homeowners.
The cost of Hickory hardwoods allow consumers access to high-quality flooring that, in comparison to exotic hardwoods like Brazilian Cherry, are quite affordable.
Hickory can also hold up to to the wear and tear of daily living, making it a preferred flooring option for families of young children and pets.
Along with the hardwood's natural characteristics, modern advances in technology also give Hickory, and other hardwoods, added appeal.
Peebles says at Hardwoods4less, prefinished Hickory hardwood flooring undergoes an 8-step top coat finishing process, increasing the hardwoods resistance to scratches, dents and dings.
"These are not your grandparents' hardwood floors," he says. "It's amazing what technology has allowed us to do to increase their durability and make them even easier to maintain."
Among domestic hardwoods, Hickory hardwood flooring is rising in popularity over the industry standard Red Oak. Hickory is a stylish, durable, and cost-effective option.
For homeowners and businesses interested in more information about Hickory hardwood flooring, visit http://www.hardwoods4less.com.
Affiliations:
Better Business Bureau
National Hardwood Flooring Association