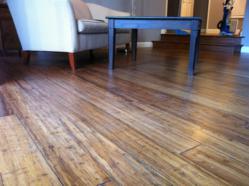 Atlanta, GA (PRWEB) April 18, 2012
Bamboo Flooring is a perfect option for those who appreciate beauty, longevity and environmental sustainability. Rated harder than red oak, new pre-finished bamboo floors from simpleFLOORS offer easy installation and ease of cleaning with a no-wax surface.
simpleFLOORS features eco-friendly renewable bamboo flooring in a variety of styles and colors, including the new Strand-Woven Bamboo Java Series. With a wide range of color to compliment any decor, these unique floors are hand-scraped for a rustic, textured feel and appearance.
simpleFLOOR's Strand Woven Java Series is extremely durable due to bamboo's high Janka rating, combined with 8 coats of Aluminum Oxide finish. simpleFLOORS uses European Dyno adhesives during manufacturing, which is free of components classified as hazardous to the environment. There are no solvents, heavy metals, formaldehydes or bactericides used during manufacturing.
These floors are commercially-rated yet can be installed in many environments. Premium Green Bamboo Strand Woven bamboo floors can be cut, installed or sanded like conventional solid hardwood floors. Due in part to its inherent dimensional stability, Strand Woven flooring can be glued directly down over concrete, nailed or floated.
simpleFLOORS also uses sustainable cork underlay with most flooring installations, as it offers excellent durability and sound-dampening properties.
Earth-friendly strand-woven bamboo floors by simpleFLOORS . . . ecologically sustainable hardwood flooring options for Earth Day 2012.
simpleFLOORS Inc. is an Atlanta-based online retailer with 15 showrooms in California, Oregon, Washington, Georgia and Florida, offering premium-grade design-conscious wood flooring at guaranteed low prices. Guided by fresh insights from the interior design community, including new color trends, depth-enhancing hand-sculpting techniques and distinctive grain treatments, simpleFLOORS contract-manufactures, imports, sells and ships direct to residences, business addresses and construction sites anywhere in the U.S. and Canada.
From engineered exotic species to bamboo and cork products, simpleFLOORS respects the environment and carries a wide range of sustainable, regenerative, durable and long-lasting wood flooring options.
Contact simpleFLOORS at 800-220-7112 or visit the simpleFLOORS website at http://www.simplefloors.com