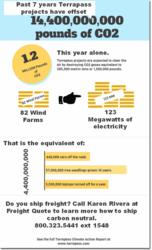 ...transport hardwoods while still minimizing our impact on the environment.
Greensboro, NC (PRWEB) September 25, 2012
Hardwoods4less, further limits its impact on the environment by utilizing Terrapass, a carbon offsetting program, which, in exchange for purchasing carbon offsets supports environmental conservation projects that reduce greenhouse gas emissions.
The Terrapass program used by the hardwood retailer and distributor is offered by the company, Freightquote, an online transportation-management provider based in the U.S.
"We work hard to provide our customers quality hardwood flooring at affordable rates. But we also want to make sure we're doing our part to protect the Earth in the process," says Clayton Peebles, owner of Hardwoods4less. "Working with Freightquote and the carbon offsetting program, Terrapass, allows us to transport hardwoods while still minimizing our impact on the environment."
Participation in the Terrapass program helps fund projects that reduce carbon emissions. One type of project, for instance, includes catching and destroying the harmful greenhouse gas, methane, which emits from decomposing trash found in landfills, and from coal mines. Supporting wind farms, which helps to produce the nearly carbon-free wind energy, is another type of project.
Hardwoods4less also does its part to protect the environment by limiting the amount of time goods are on the road.
The traditional business model of transporting materials from the mill to distributors, retailers and then to customers makes for higher prices and a higher use of energy. As a result, additional gas is released into the air, causing greater pollution.
Through the Hardwoods4less business model, however, products are shipped directly from the mill to the customer, saving time and money, and reducing the company's carbon footprint.
Peebles says, "We want to not only save our customers money; we want to also save them peace of mind. We want them to feel comfortable knowing they are purchasing their hardwoods from a company that cares about how their hardwoods are harvested and cares about the impact the transport of those hardwoods has on the environment. "
Hardwoods4less continues its environmentally-friendly approach by working to reduce its carbon footprint through the carbon emissions reduction program, Terrapass, offered by the online U.S. freight-shipping company, Freightquote.
For homeowners and businesses interested in more information about the environmentally-friendly practices of Hardwoods4less, visit http://www.hardwoods4less.com.
Interested in shipping carbon neutral? Contact Karen Rivera at Freight Quote - 800-323-5441 ext 1548.