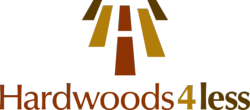 We want customers to be aware of all the cost that come with a hardwood flooring purchase.
Greensboro, NC (PRWEB) November 20, 2012
Hardwoods4less, a hardwood flooring retail and distribution company, announced today it's introducing tools that will help make consumers aware of the various costs inherent when purchasing new hardwood flooring.
Many consumers think of the price of hardwoods alone. However, there are several other aspects of a hardwood flooring installation project to consider.
"We want customers to be aware of the different costs that come with a hardwood flooring purchase," says Clayton Peebles, owner of Hardwoods4less. "It's not enough to buy the flooring. You also have to consider how the flooring will get to your property and how it will get nailed down to your subfloor."
Hardwoods4less has created an infographic that illustrates the steps necessary to start and complete a hardwood flooring installation project, from carpet removal, to the purchase of hardwoods, to securing the flooring. Starting costs for a sample project are included.
A hardwood flooring installation cost calculator is also provided on the Hardwoods4less website, to give consumers a way to determine an estimate.
The estimator allows the consumer to enter details regarding the space where the hardwood flooring will be installed, including the amount of square feet to be covered, and the amount of cut out and waste.
Possible additional costs are also listed. Furniture removal and replacement; existing floor covering removal; and subfloor repair and replacement are a few.
Peebles says it's important to give consumers the tools needed to help make informed decisions before they buy.
"We want to make the decision-making process as smooth as possible," he says. "And one way to do that is by giving the customer all the information up front, and in a clear and concise way."
Hardwoods4less introduces consumers to tools geared towards calculating the total costs of a hardwood flooring project.
For homeowners and businesses interested in more information about the various costs associated with purchasing and installing hardwood flooring, visit http://www.hardwoods4less.com.