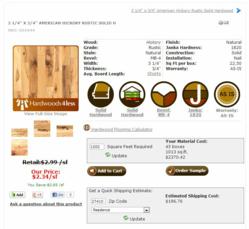 Just another way for consumers to compare apples to apples.
Greensboro, NC (PRWEB) February 26, 2013
Hardwoods4less launched a new and improved freight calculator that will figure the freight shipping costs to consumers' homes or other properties from the nearest warehouse with available stock, Clayton Peebles, owner of Hardwoods4less announced today.
"Consumers don't want any surprises. They instead want to know upfront what it's going to cost them to purchase the products they really want," Peebles said.
"With our new and improved freight calculator, consumers can determine from jump how much shipping will cost, and can make a decision as to if it works out better for them financially to have their flooring shipped, or to go with a local company. We just want to help make that decision-making process a little easier."
Consumers can choose to have flooring shipped to residential or commercial properties, with a truck dock, or at a construction site.
No address, registration or login information is required to access the freight shipping calculator. Only the square footage of the property and the zip code are needed.
The calculator will reveal the estimated shipping costs once the required information is entered.
For homeowners and businesses interested in more information about the Hardwoods4less updated freight shipping calculator, visit http://www.hardwoods4less.com.
Contact:
Business Information
Hardwoods 4 less, LLC
1921 Strathmore Drive
Suite A
Greensboro, NC 27410
Phone: 888-705-7555
Fax: 336-273-1598
Website: hardwoods4less.com
Email address: Sales(at)hardwoods4less(dot)com
Affiliations:
Better Business Bureau
National Hardwood Flooring Association