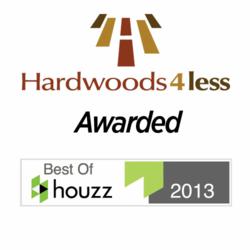 To be recognized for such an award is truly an honor
Greensboro, NC (PRWEB) January 30, 2013
Hardwoods4less was awarded the 2013 "Best of Houzz" Award by Houzz, the leading online space for residential remodeling and design inspiration. The hardwood flooring retail and distribution company, in service since 2003, was chosen by users of the Houzz community, which totals more than 11 million a month.
The 2013 "Best of Houzz" Awards, announced in January, were given in two categories: design and customer satisfaction. Hardwoods4less received the award in the customer satisfaction category. Award winners in this area were determined by Houzz homeowner members' ratings of their experiences working with remodeling professionals in 12 categories, ranging from architects and interior designers, to contractors and flooring retailers.
"To be recognized for such an award is truly an honor," says Clayton Peebles, owner of Hardwoods4less. "We're thankful to the Houzz community for taking notice of the type of customer service we provide. We work hard to give our customers nothing but the best, and wouldn't have it any other way. "
"Houzz provides homeowners with an in-depth, 360-degree view of building, remodeling and design professionals through images of their work, reviews and an opportunity to interact with them directly in the Houzz community," said Liza Hausman, vice president of the Houzz community.
"We're delighted to recognize Hardwoods4less among our "Best Of" professionals for exceptional customer service as judged by our community of homeowners and design enthusiasts who are actively remodeling and decorating their homes."
Hardwoods4less won the 2013 "Best of Houzz" Award for customer satisfaction.
For more information about the Hardwoods4less 2013 "Best of Houzz" Awards win, or to learn more about hardwood flooring, visit http://www.hardwoods4less.com.
Contact:
Business Information
Hardwoods 4 less, LLC
1921 Strathmore Drive
Suite A
Greensboro, NC 27410
Phone: 888-705-7555
Fax: 336-273-1598
Website: hardwoods4less.com
Email address: Sales(at)hardwoods4less(dot)com
Affiliations:
Better Business Bureau
National Hardwood Flooring Association