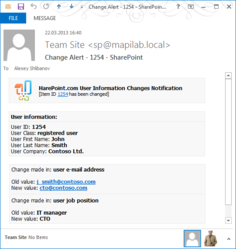 (PRWEB) April 05, 2013
Alerts in SharePoint are useful and convenient in that they create and dispatch email notifications to targeted users when changes are made in list items, documents, lists, or document libraries. Standard SharePoint alerts provide a set of basic options: recipients, delivery method, types of changes reported, delivery schedule, etc.
But some important things are lacking: the alert/notification templates cannot be customized easily so that all the required information is in a convenient form. For example, there is no setting to change the order of the fields displayed in the notification or to incorporate company branding into it. SharePoint alert templates can be customized manually by modifying the XML coding. However, this is a complicated process and viable only for users possessing advanced coding skills and experience.
HarePoint Custom Alerts for SharePoint brings e-mail alerts to a new level by providing outstanding alert and notification templates customization that satisfy whatever requirements a user might have. The solution provides the following helpful and attractive features: farm-admin permissions are not required to create alerts; separate templates for each type of event (adding, changing, and deletion) can be created; an individual template for any list, document library or content type can be created; and the template layout can be easily designed in an advanced HTML-editor.
And the best feature provided in HarePoint Custom Alerts is a comparison mode that displays old and new versions of field values simultaneously in one notification. This is extremely valuable in situations when the recipient of the notification is not familiar with the item changed. The comparison mode provides context for the modifications without the need of opening items in the library or viewing the logs.
HarePoint Custom Alerts works both with Microsoft SharePoint 2010 and 2013.
A free 30-day trial of the product is available on the HarePoint Custom Alerts homepage.