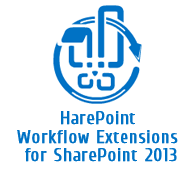 (PRWEB) April 10, 2013
Workflows are SharePoint's key feature for automating business processes. The out of the box set of workflow activities in SharePoint satisfies basic needs for authoring workflows. But sometimes more advanced actions are required, and HarePoint Workflow Extensions provides more than 200 new, ready-to-use workflow activities for creating workflows of any level of complexity.
Find and replace text in documents, convert PDFs, send messages with attachments, send HTTP requests, upload documents and list items via FTP, operate with user and group data from Active Directory, print documents automatically, convert / resize images and much more - nearly any business process can be easily created with the activities present in the product. The product also contains a set of free activities which can be used without licensing.
The new version of HarePoint Workflow Extensions contains identical sets of activities (more than 200 actions and conditions) for SharePoint 2010 and SharePoint 2013 and it allows to:

move workflows between different versions of SharePoint;
secure company investments in workflows development for SharePoint 2010;
avoid headache when migrating to SharePoint 2013.
The popularity of SharePoint 2013 is growing rapidly, so issues related to workflow migration between different versions of SharePoint are highly topical. HarePoint takes this into account and provides a special solution – HarePoint Workflow Migration – which assists in fast and error-free migration of SharePoint 2010 workflows to SharePoint 2013.
A 30-day trial version of HarePoint Workflow Extensions is available for download from the product home page: HarePoint.com