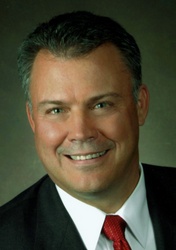 There is tremendous opportunity for our company. We have emerging businesses that are developing new products and services that promise organic and sustainable growth.
SAN ANTONIO (PRWEB) September 9, 2008
During his 27 years with the company, Mr. Westfall served in many roles, including managing the San Antonio base plant; overseeing the company's conversion from letterpress to offset; heading up the company's Forms Business in Indiana and the development of the company's TranSource brand; EVP of Operations in San Antonio; President and CEO of Checks In The Mail; and in 2006 until his retirement, Chief Operating Officer.
"Alan Westfall served this company at the highest standards of performance for nearly three decades. His leadership and counsel were predicated on a keen business sense and unbridled enthusiasm," said Chuck Dawson, President and CEO of Harland Clarke and Harland Clarke Holdings Corp. "As much as Alan will be missed, we have a proven leader in Dan Singleton. He has consistently demonstrated his leadership and operational strengths during the 20 years he has been with this company. Dan lives the vision we all have for Harland Clarke's future."
A financial services industry leader for the majority of his career, Mr. Singleton's new role expands his oversight of Sales and Marketing for Harland Clarke's Payment Solutions business to also include operational, sales and marketing oversight for its Payment Solutions, Marketing Services, Business Solutions, and Checks In The Mail businesses. His full scope for the business includes Sales, Sales Development and Support, Manufacturing, Contact Centers, Engineering and Process Quality, Analysis and Reporting, Client Services, Security Services, and Project Services.
A 1983 graduate of the University of Florida, Mr. Singleton began his career with Xerox then held positions with Deluxe and a national pipe distributor prior to joining Clarke American in 1988. At Clarke American, he worked with Mr. Dawson in multiple leadership roles, until he assumed the presidency of a business unit owned by the parent company. When it was merged with four other divisions into a $1.1 billion company, Mr. Singleton became its Senior Vice President of Sales, Marketing and International.
In January 2006, Mr. Singleton rejoined Clarke American as the company's Senior Vice President, Partnership Development. In May 2007, when the company merged with the John H. Harland Company to form Harland Clarke, Singleton became its Executive Vice President, Sales and Marketing. He now retains those responsibilities as his accountability expands to Chief Operating Officer of the $1.3 billion total solutions provider to the financial services industry.
"I'm honored and excited to be Harland Clarke's COO," said Dan Singleton of his new position. "There is tremendous opportunity for our company. We have emerging businesses that are developing new products and services that promise organic and sustainable growth."
About Harland Clarke Corp.
Harland Clarke Corp. is a leading provider of integrated payment solutions, marketing services and technology solutions. It serves approximately 15,000 financial institutions, as well as major investment firms, business-to-business clients, small businesses, and individual consumers. With its corporate headquarters in San Antonio, Texas and a regional headquarters in Decatur, Georgia, Harland Clarke employs approximately 5,800 people and has manufacturing facilities nationwide. Harland Clarke Corp. is a wholly-owned subsidiary of Harland Clarke Holdings Corp. which also wholly owns Harland Financial Solutions Inc. and Scantron Corporation.
MULTIMEDIA GALLERY http://www.businesswire.com/cgi-bin/mmg.cgi?eid=5774193