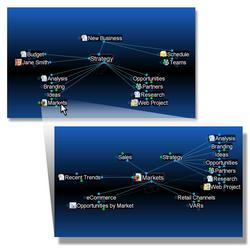 The event is guaranteed to be a tremendous opportunity for attendees to gain hands-on experience using visualization for collaboration, facilitation and problem solving.
Marina del Rey, CA (PRWEB) January 23, 2008
TheBrain Technologies announces that Harlan Hugh will be a facilitator and guest speaker at the VizThink 2008 conference. His workshop is entitled: Working in a Digital Visual Environment: The Desktop Rethought, Session # 407, Tuesday, January 29, 2008, 1:30pm - 3:00pm in the Concordia Room at the Westin San Francisco Hotel.
"We're very excited to have Harlan Hugh as a facilitator and guest speaker at the VizThink'08 Conference and expand the collaboration between the world's best visual thinkers and corporations that can utilize their techniques," said Tom Crawford, chief executive officer, VizThink. "The event is guaranteed to be a tremendous opportunity for attendees to gain hands-on experience using visualization for collaboration, facilitation and problem solving."
The VizThink conference brings together renowned leaders in visualization techniques. Over the course of three days VizThink will include an open exhibit area and over 30 interactive workshops on topics such as strategy visualization, using comics to communicate product concepts, and effective presentations. The event will be held at the Westin San Francisco Market Street hotel from January 27 - 29.
"Given the amount of information we think about and work with each day, we can benefit tremendously from digital environments based on the most powerful information processor in existence, the human mind," said Harlan Hugh, Chief Executive Officer of TheBrain. "Associative computing has no limits. Any piece of information can be linked and connected to anything else, like your mind, triggering all relevant information. This helps us filter through and assimilate vast amounts of information that simply cannot be represented through search lists and folders."
Harlan Hugh's session will explore new paradigms for working with and visualizing information. "Rethinking the Desktop" will be a highly interactive and instructional workshop giving participants the opportunity to express their ideas and thoughts with different technologies from the past and present, focusing on how we interact with information each day.
Topics to be covered include:

Introduction to visualization and modes of visual communication
Creating information networks of Thoughts
Integrating files and web pages from your perspective
Example Brains and case studies for getting things done
Getting started on your own personal interface for your desktop
Harlan Hugh focuses on user interface design and information architecture. His passion is helping people organize and share information the way they naturally think about it, transcending the boundaries of traditional computing. He works with both government and private corporations implementing software solutions as well as developing effective strategies for improved information access, time critical analysis, content sharing and collaboration.
Harlan's innovation and patents in the field of information visualization led to the TheBrain's Technologies award winning product line and acclaimed software, PersonalBrain. PersonalBrain's revolutionary visual interface and associative linking enables users to connect their digital content into a dynamic visual interface that reflects their thinking and increases productivity. The software is used by hundreds of thousands of people worldwide who need to analyze, brainstorm, and synthesize a wide variety of information both on their computer and the Internet.
Registration for VizThink and Harlan Hugh's Session on "Rethinking the Desktop"
Attendees can register for the event at http://www.vizthink.com/reg.html and use TheBrain customer code, PCB0100. to receive a $100 discount on conference passes.
TheBrain Technologies will be exhibiting at Booth 23 where attendees can learn about the latest release of PersonalBrain, dynamic mind mapping software, and BrainEKP, TheBrain's collaborative solution for businesses and user groups who need to organize and connect information in real-time over the Web.
About TheBrain Technologies
TheBrain Technologies helps people see, share and find information faster. TheBrain's Enterprise Knowledge Platform, BrainEKP™, combines a natural language search engine with a compelling visual display of topics so users can see and discover critical information relationships and the most relevant content. TheBrain's customers include: Encyclopædia Britannica, Navy Special Warfare, Tyco, Accenture, Park Nicollet, Medtronic and the U.S. Department of Defense. TheBrain's PersonalBrain™ dynamic mind-mapping software helps users see and organize their information the way they think about it. Download PersonalBrain at http://www.thebrain.com or e-mail info@thebrain.com for more information.
About VizThink LLC
Founded in 2007, VizThink is bringing together visual thinkers from around the world to create the first global, sustainable community dedicated to using and raising awareness of visualization in all forms of learning and communication. Visual thinking is a methodology, approach and a philosophy that uses pictures, graphics, images, and other forms of art to communicate or teach ideas, concepts, strategies, processes, relationships and systems. For more information about VizThink, visit http://www.vizthink.com or call (503) 467-7770.
TheBrain, BrainEKP, and PersonalBrain are trademarks or registered trademarks of TheBrain Technologies LP. All other corporate names or trademarks stated herein are the property of their respective companies. Copyright © 2008 TheBrain Technologies LP.
###