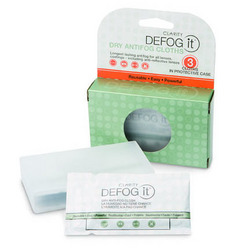 We love to send Defog It antifog to be tested in the toughest conditions on the planet. The cold Alaska temperatures and the hard riding of Harley-Davidson owners is a great addition to our torture tests that include the military, firefighters, and more
Valley View, OH (Vocus) June 8, 2010
When Harley-Davidson Motorcycle riders roll in to Kenai, Alaska, for the 2010 H.O.G ® Rally, June 10-12, they arrive during the longest days of the year, with nearly 20 hours of daily sunlight for riding. However, average temperatures in Kenai range from a low of 40 to a high in the low 50s during June. Fortunately, each rider will receive Defog It antifog towelettes when they arrive, to help keep their motorcycle faceshields from fogging up in cold temperatures.
After reading a review of Defog It antifog towelettes and liquids at webBikeWorld.com, event organizers requested product Defog It antifog towelettes to be given to all 450 registered riders.
Defog It antifog can provide all-day fog prevention on motorcycle faceshields, eyeglasses, sunglasses, ski goggles, safety eyewear, scuba masks and sports eyewear. Tested safe for all optics, the formula is used by the military around the world to prevent fogged eyewear in vision-critical situations. In one test, a lens treated with Defog It was held over constant hot steam for 60 minutes without fog forming. In another test, lenses coated with Defog It were moved between cold and hot environments 100 times without fog forming. Defog It towelettes and liquid are available at http://www.defogitworks.com. More information available at 1-888-ENDS-FOG.
"We love to send Defog It antifog to be tested in the toughest conditions on the planet," said John Swett, Vice President of Marketing for Nanofilm, maker of Defog It. "The cold Alaska temperatures and the hard riding of Harley-Davidson owners is a great addition to our torture tests that include the military, firefighters, police officers, construction workers, and even aboard the International Space Station."
Nanofilm, founded in 1985, is the maker of Clarity Defog It™ and a global optical leader in lens care and coatings. Millions of people around the world use Nanofilm products, including Clarity Clean It™ and other lens care products, as well as nanotechnology-enabled coatings. More information is available at http://www.nanofilmproducts.com.
# # #