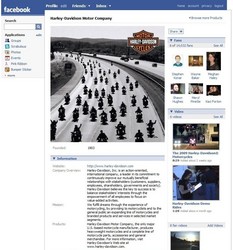 Milwaukee (PRWEB) August 5, 2008
Harley-Davidson has fired up its official page on Facebook. Now fans have a new way to connect with the legendary motorcycle company, and with each other, while they anticipate their next chance to jump on the saddle and ride.
If they could, Harley riders would hit the open road all day, everyday. The official Harley-Davidson page on Facebook is a useful diversion between rides. The page will be updated frequently with exclusive content and official news directly from Harley-Davidson. Visitors can check out national events like Harley-Davidson's 105th Anniversary Celebration featuring a concert by Bruce Springsteen and the E Street Band. They can also get the scoop on local events that are sponsored by dealerships across the country.
And of course there are amazing bikes, and lots of them. The new models are all there for the gawking. There's a link for fans to customize the Harley of their dreams with all the latest features and authentic Harley-Davidson® accessories. What's more, there are downloads including high-resolution images, screen savers, wallpapers and other downloads for PCs and mobile devices. There are links to information about buying a Harley-Davidson® motorcycle, as well as the Rider's Edge® New Rider Course.
While clicking a mouse certainly can't compare to putting on miles, visiting the official Harley-Davidson page on Facebook is the next best thing. It's a great way for them to connect with other riders by adding themselves as a fan of Harley-Davidson and sharing photo albums, videos and stories about inspired rides. Visitors can even leave some graffiti on the wall.
This page is a great online destination for experienced, new and future riders who feel the call of the road while at home or work. Everyone is invited to add themselves as fans and stay up-to-date with official H-D news, connect with other riders around the world, and be tempted by the latest models. Live to Ride. Ride to Live. Visit the official Harley-Davidson page on Facebook today.
###