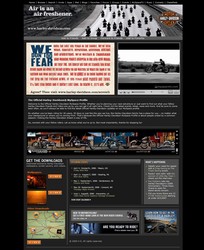 Milwaukee, WI (PRWEB) June 5, 2008
Harley-Davidson has rumbled onto one of the world's largest social networks with the official Harley-Davidson MySpace profile. And in true Harley-Davidson fashion, visitors are greeted with the "So screw it,let's ride" manifesto and a link that challenges them to bring their own words to the rally cry. But that's just the beginning of the journey.
The official Harley-Davidson MySpace profile is continuously updated with all the latest news and happenings straight from the source. Visitors find out how to get on the inside track for once in a lifetime events like the Foo Fighters concert that's part of Harley-Davidson's 105th Anniversary celebration. They'll get the lowdown on cool rides and events across the country. There are updates on the latest motorcycles and a link that lets visitors customize their own virtual ride with authentic Harley-Davidson® accessories. There's a load of downloads including screen savers, wallpapers, custom protective skins and other downloads for mobile devices. There are also links to information about buying a Harley-Davidson® motorcycle, as well as the Rider's Edge® New Rider Course.
But the central mission of the profile is to give Harley-Davidson enthusiast on MySpace the chance to connect. Harley-Davidson isn't just about bikes; it's about bikers who love the freedom of the open road. And what a wildly mixed crew they are. They represent everything from young hot shots to wind weathered easy riders. They are escapees from glass towers and geared up garages. With a shared passion, they come from every corner of the world. The Harley-Davidson MySpace profile gives them a place to gather on common ground. And by adding H-D as a friend, they'll be able to share stories from the road, pictures of their own bikes, videos of their antics, and swap tips, tricks and suggestions for memorable rides.
Harley-Davidson's MySpace profile has a lot to offer riders with 30 years in the saddle or just 30 days out of a Rider's Edge course. It's also an informative good time for those still thinking about stepping off the curb and getting in the saddle of their own Harley-Davidson.
Harley-Davidson Motor Company, the only major U.S.-based motorcycle manufacturer, produces heavyweight motorcycles and a complete line of motorcycle parts, accessories and general merchandise. For more information, visit Harley-Davidson's web site at http://www.harley-davidson.com.
###