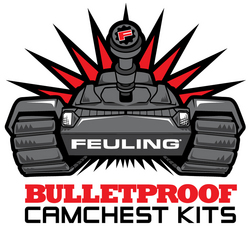 MAXIMUM RELIABILITY, PEAK PERFORMANCE AND THE COOLEST ENGINE AND OIL TEMPERATURES OBTAINABLE
Mojave, CA (PRWEB) December 20, 2010
After years of developing some of the most trusted HARLEY DAVIDSON ® engine parts, FEULING ® announces the release of a package combining everything an engine builder will need:FEULING ® COMPLETE CAM CHEST KITS for Harley ®.
This new product, from the FEULING® PARTS CATALOG, includes all the necessary components of your bike's cam chest from top to bottom, conveniently packaged under one part number.
Ease of ordering, however, should not be the only motivation to purchase, says Luke Leatherman of FEULING ®: "BULLET PROOF CAM CHEST KITS not only ensure each individual part is designed to work and function together, but to do so in total harmony. This takes work out of the ordering process and guarantees your HD engine builder gets maximum reliability, peak performance and the coolest engine and oil temperatures obtainable".
Kits include: FEULING ® High volume Oil pump, High Flow Camplate, Reaper™series Camshafts, Hydraulic Roller Lifters, Fast Install Pushrods, Timken® cam bearings, Gaskets, O-rings and ARP® fasteners & hardware.
Cam chest Kits are available in FEULING ® HP+® and RACE SERIES™ Combinations and with Gear drive or chain drive camshafts. Fitments available for '99-'11 Twin Cam engines.
MSRP Starting at $1,595.00
###