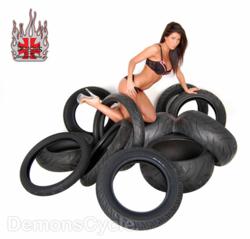 Good tires mean better safety, it is as simple as that.
Pompano Beach, FL (PRWEB) September 09, 2011
Demon's Cycle Inc., a custom motorcycle builder and custom motorcycle parts supplier, is pleased to announce that it is using its considerable buying power to keep tire prices low and increase safety on American roads. Since 2010 a tax has been imposed on imported tires resulting in significant tire prices rise in the USA. Biking enthusiasts and hobbyist, some on lower levels of income, are bearing the brunt of this tax.
High prices result directly in a decline in safety. Previously bikers would change the tires on their motorcycles at the first sign of damage or wear. Now due to the economic situation and the higher tire prices there is the possibility that bikers are delaying changing their tires. This in turn reduces safety on American roads.
Demon's Cycle specialize in supplying tires, both imported and sourced from within the USA, for all the popular Harley Davidson tire sizes. It also stocks custom 200, 250 and 300 wide tires.
"We are motorcycle specialists and we are using our reputation and buying power to source the best quality and best priced tires, not only for Harley-Davidson's but also for custom bikes with different tire size requirements" said Tom Steinbacher, the founder of Demon's Cycle. "Good tires mean better safety, it is as simple as that."
Demon's Cycle has a reputation for keeping its fellow bikers safe by supplying dependable and reliable tires at the best possible prices.
About Demon's Cycle
Based in Pompano Beach, South Florida, Demon's Cycle was started more than seventeen years ago by Tom Steinbacher and has a reputation as a pioneer of radical motorcycle designs, euro style bikes and custom chopper concepts. Demon's Cycle is an international custom motorcycle wholesale company. As well as building custom motorcycles and selling rolling chassis, Demon's Cycle specialize in the sale of custom parts for Harley-Davidson motorcycles. They offer a wide range of parts from t-shirts to tires, from motors to complete motorcycles.
Contact Demon's Cycle Inc.
1407 SW 10th Ave.
Pompano Beach, FL 33069
Telephone: 954-943-0000
Fax: 954-943-0377
Web: http://www.demonscycle.com
###