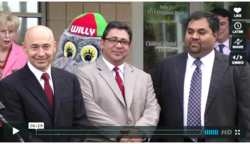 Harlingen, TX (PRWEB) April 14, 2012
One of the most popular dental clinics in America, Harlingen Family Dentistry, has just released a video of the Grand Opening of its new Children's Dental Clinic. Held on February 23 of this year, the event celebrated the opening of the specialized clinic for youth which expands the already enormously popular dental office to more than 27,000 square feet and 150 staff.
The new clinic is headed by three veteran pediatric dentists, Dr. Rodolfo Vargas, Dr. Oshmi Dutta and Dr. Walter Lopez. Their purpose is to provide the highest standard of dental care for children in the Rio Grande Valley.
The seven minute video presentation details the opening which was attended by local officials and dignitaries along with several hundred supporters and friends.
Harlingen City Commissioner Joey Trevino is shown presenting a Mayoral Proclamation declaring Children's Dental Health Month and extolling HFD's preventative dental hygiene program which has reached 50,000 young people in the Rio Grande Valley.
The "Willy the Walrus" program raises dental health awareness through a humorous and fun 45-minute presentation at schools and health fairs. The program travels to elementary schools and high schools all over the Rio Grande Valley and has educated 5,000 youth in February alone with HFD providing complimentary tooth brushes and tooth paste to each child.
The video also shows Mr. Tommy Ramirez, CEO Cameron County Juvenile Justice Department and director of the Harlingen Outreach Center, introducing the Cameron County Youth Choir who sang "God Bless America."
Major David Casebeer directed the presenting of the colors by the Harlingen High School South JROTC.
Dr. Juan Villarreal, founder and head of Harlingen Family Dentistry, is shown being presented with a Certificate of Commendation by Ms. Crystal Curry of the Hispanic Chamber of Commerce for HFD's contribution to community and business life in the Rio Grande Valley.
HFD not only is one of the largest dental practices in the country but also operates a school for the training of dental assistants, providing trained, employable individuals into the country's workforce. Dr. Villarreal, himself a Harlingen native, has been providing dental care in the area since 1983 when he first opened HFD.