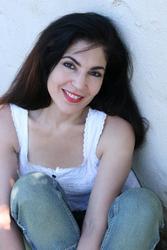 People find it unusual to find food at a literary event, but as an Italian-American, I can't host any events without serving food
Marin County, CA (PRWEB) June 4, 2009
Patricia Volonakis Davis, author of Harlot's Sauce: A Memoir of Food, Family, Love, Loss, and Greece will make a cross-country trek this week from California to her native New York for several special book events, all taking place between June 5 and June 11.
On June 7, from 2 p.m. to 4 p.m., Davis will be at the Italian-American Museum on Mulberry Street in NYC as a museum fundraiser. She will be reading from her colorful memoir, discussing Italy's Occupation of Greece during WWII and offering up some delightful anecdotes about Greek food "versus" Italian food.
On June 8, Davis will speak at Saint Demetrios Cathedral High School, where she taught English and Music in the 1980's. She will discuss writing as a career with the 11th grade classes in the morning, and will appear at an event for the community at large that same evening. This evening talk and reading will center on her life in Greece, where Davis spent seven years running her own imports and education business.
The final major event on Davis' roster will happen on June 10, at 7:00 p.m. at Book Revue in Huntington, LI. Davis will be signing books and reading some hilarious scenes from Harlot's Sauce, with the help of some actor friends.
All events will include Greek and Italian goodies complimentary to those in attendance.
"People find it unusual to find food at a literary event, but as an Italian-American, I can't host any events without serving food," says Davis. She adds, "It will probably be there at my funeral, too."
Apart from these three very important events, Ms. Davis will also be cooking up 'salsa puttanesca' (harlot's sauce) for the teachers at Landing School in Glen Cove, on June 5, and then speaking at another of her former schools, IS. 145Q in Jackson Hts., on June 11.
For more information on Ms. Davis or these events, contact Timothy Ross Publicists at: timothyrosspublicists@comcast.net or call: 415-459-8969. More information can also be found on Patricia's website at http://www.patriciavdavis.com
About Patricia Volonakis Davis
Patricia Volonakis Davis is the editor-in-chief of Harlots' Sauce Radio, an e-magazine and podcast at http://www.harlotssauce.com. She has published a broad spectrum of short literary works and poetry, nationally and internationally. Harlot's Sauce: A Memoir of Food, Family, Love, Loss and Greece is her first full-length work, and is being hailed as "a cross between Under the Tuscan Sun and My Big Fat Greek Wedding", and as "an inspiring women's empowerment story".
###