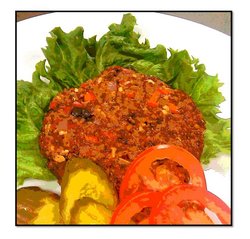 The Firecracker veggie burger is a perfect way to spice up the 4th.
Fort Collins, CO (Vocus) July 3, 2010
Harmony Valley Foods has just released its Firecracker Mediterranean Veggie Burger Recipe just in time for the 4th of July holiday. The recipe is printed in the company's newest blog post. "We wanted to create a savory delight for this year's 4th of July festivities," says Deb Lecy of Harmony Valley Foods.
The 4th is known to be jam packed with out-of-doors, out-of-town and sometimes an out of this world event. This year, spice up your red white and blue weekend with a healthy alternative to the regular smorgasbord of not-so-good for you summer meals. Our Firecracker Burger has a brilliant Mediterranean flavor and that great Harmony Valley texture. The little flecks of red pepper give the burger a festive look!
Firecracker Mediterranean Veggie Burgers
Prep Time: 30 Min. Cook Time: 20 Min.
Yields 5-6 Patties
Ingredients
1 Bag (1 lb) Harmony Valley Hamburger Mix
1D2 cup red quinoa – uncooked
7 oz. Vegetable broth
1 1D2 tsp olive oil
3D4 cup chopped onion
4 large cloves garlic, pressed (9 cloves garlic, minced)
1D2 red bell pepper chopped fine 1D2 Yellow Bell Pepper
4 Tbsp tomato sauce
10 sliced kalamata olives
6 Oil packed sun-dried roma tomatoes, chopped fine
1 tsp Salt
1tsp Pepper
Directions
1. Prepare and brown Harmony Valley Vegetarian Hamburger Mix as package
instructs
2. Add quinoa to broth, bring to a boil, cover & simmer. Cook the quinoa for
about 15 minutes.
3. Heat oil in a small sauce pan over medium heat. Add onion and cook 2
minutes. Add garlic and cook 1 minute more. Set aside.
4. Put the remaining ingredients in a large mixing bowl.
5. Form into 5 or 6 patties and fry for 5 minute on each side before putting
on the grill.
6. Top with fresh spinach, red onion, and Mediterranean cucumber sauce.
For more information on the product please visit http://www.HarmonyValleyFoods.com or visit the compay blog at http://www.harmonyvalleyfoods.com/blog. To request product samples and photographs please contact Andrea Ridder, 970-482-8172.