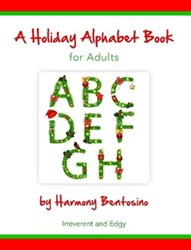 KAPOLEI, Hawaii (PRWEB) September 05, 2014
Most books on the alphabet are marketed to young children. Author Harmony Bentosino presents her original take on these books by presenting one specially made for adults. Her new book, "A Holiday Alphabet Book for Adults" (published by Lulu), takes a humorous look at the holidays with a word for each letter of the alphabet.
"'A Holiday Alphabet Book for Adults' will appeal to readers needing a break from holiday stress and also to readers who would like to decorate their coffee table with a charming book for guests to enjoy," Bentosino says.
Bentosino takes a tongue-in-cheek look at the ups and downs of the holiday season, with comical poems directed at Christmas and Hanukkah. Bentosino hopes that her book will allow stressed holiday revelers a chance to laugh. She adds, "It's the perfect gift for that person you don't know what to get."
An excerpt from "A Holiday Alphabet Book for Adults":
"A is for anxiety
of holiday stress.
Company is coming,
and your house is a mess.
Shopping and wrapping
and all those decorations—
If you were Jewish,
you could avoid
those frustrations."
"A Holiday Alphabet Book for Adults"
By Harmony Bentosino
Softcover | 8.5 x 11 in | 36 pages | ISBN 9781483403342
E-Book | 36 pages | ISBN 9781483403281
About the Author
Harmony Bentosino is known as "the Christmas Lady" for her award-winning home decorations. She obtained a master's degree in mental health counseling in 2014 and has studied the healing power of humor. She lives in Hawaii where she celebrates every warm Christmas.
Lulu empowers people of all ages to explore and express their interests, passions and expertise through books, photography and art. Since introducing self-publishing in 2002, Lulu has empowered creators in more than 225 countries and territories to produce nearly two million publications. Lulu Jr. allows children to become published authors, encouraging creativity, strengthening literacy and building self-esteem. Picture.com offers professional photography of collegiate and professional sports, memorable and historic events, fine art and home décor. For more information, please visit lulu.com.