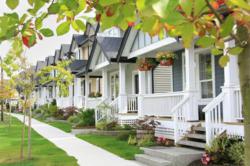 33% of homeowners can save $200 a month or more by refinancing, regardless of how far underwater they are on their mortgage.
Las Vegas, NV (PRWEB) July 19, 2012
HARP Approval (http://harpapproval.com), National Mortgage Lender Network, responds to a new industry report that indicates 1 in 3 homeowners could save $200 a month or more on their monthly mortgage payment, regardless of their current equity position.
Influenced by an expansion in the HARP Eligibility Guidelines and lower interest rates, more homeowners are able to refinance their mortgages for significant monthly savings or a reduced term.
According to a July 2012 negative equity report by Corelogic, millions of homeowners are currently "in the money," meaning they could save thousands of dollars a year by refinancing into a lower mortgage rate.
Freddie Mac reported last week that interest rates hit another all-time low for both 30 year and 15 year fixed rate mortgages for prime borrowers.
Based on the information released by both CoreLogic and Freddie Mac, since March, another 3% of homeowners crossed the potential $200 a month savings, becoming "in the money." Three percent is not a small number, representing potentially more than one million borrowers. The CoreLogic report indicates nearly 38% of all homeowners with a mortgage would benefit from rates available today.
HARP Applications Surge
Year-to-date HARP applications closed for loans in excess of 105% of the loan value have surged, exceeding all those closed in 2011 as reported by the Federal Housing Finance Agency Refinance Report for May.
Click Here - to check HARP Eligibility
The number of underwater borrowers who found relief through HARP also saw a significant increase. Year-to-date through May, 78,273 refinances were completed for underwater borrowers compared to 59,991 refinances for underwater borrowers for the entire year of 2011.
The Federal Housing Finance Agency further states that the majority of homeowners refinancing through HARP 2.0 in 2012 have had loan amounts in the 80% - 105% loan-to-value. This means that the new loan amount did not exceed the value of the home by more than five percent and many were for loan amounts less than the home is worth.
In May, borrowers with greater than 105% LTV accounted for nearly one-third of HARP volume. HARP refinances represented over 40% of total refinances in Nevada, Arizona, Michigan and Florida, compared to 20% nationwide. Underwater borrowers represented more than half of HARP volume in Nevada and Arizona and 40% to 50% of HARP refinances in Florida, Idaho and California.
While many people believe that HARP 2.0 is solely designed to benefit those property owners that are significantly underwater, this is not the case. Year to date, of the 297,103 HARP refinances that have been processed, 218,830 of the 297,103 have been for loans at or under 105% loan-to-value.
Examples of people benefiting from loans in the lower loan-to-value range include people that put 20% or more down when they purchased their home or had more than 20% equity in their home when they last refinanced their mortgage.
For some people in this situation, they believe they may have to pay Private Mortgage Insurance or PMI on their new loan. However, in the guidelines for HARP, this is not the case. If the loan currently does not have PMI, then the new loan will not require it. The monthly savings in these cases can be significant.
"The majority of our HARP refinances are for borrowers who owe less than 105% LTV, but were unable to refinance with the initial HARP refinance program due to PMI or appraisal issues," states Susan Waugh, broker of Hometown Mortgage in Missouri.
About HARP Approval:
HARP Approval is a national online network of pre-approved home loan professionals and lending institutions who are authorized to participate in the Obama Administration's updated versions of the Home Affordable Refinance Program (HARP 2.0 - 3.0). HARPApproval.com is managed by Best Rate Referrals (http://bestratereferrals.com/), a Nevada-based online publisher and mortgage technology firm that manages over 3,000 consumer-focused real estate and lending websites.