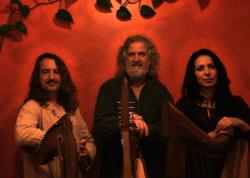 Have your heart opened with the most beloved instrument of all time
San Francisco, CA (Vocus/PRWEB) June 24, 2011
Six renowned Celtic Harpists will be playing harp music for the acoustic music lovers assembled at the Freight and Salvage Coffeehouse in Berkeley. The event will be held at the coffeehouse, located at 2020 Addison Street in Berkeley, on Thursday, July 14. Doors open at 7 p.m. and tickets cost $20.50 for people purchasing in advance and $22.50 at the door.
The event will feature both "The New World Gypsy String Band" and "Triskela Harp Trio" and a portion of the proceeds will benefit the Healing Harp program at the Institute for Health and Healing at the California Pacific Medical Center. The program combines modern musicology and medical science to create an effective therapeutic intervention for hospitalized patients.
"Have your heart opened with the most beloved instrument of all time," said Lisa Lynne, a member of The New World Gypsy String Band. "The concert will transport listeners to other times, as well as bring the world's most ancient instrument into the 21st Century."
Those in attendance will enjoy magical and warm strains of many harps and be awash in the sounds of rare, ancient and acoustic instruments from across the world.
"The special evening will include the rarely seen Swedish Nyckelharpa along with an assortment of plucked instruments, percussion, exotic woodwinds and sweet vocal harmonies," said Lynne. "For those who like organic music, this will be a lush feast."
About the Artists:
The New World Gypsy String Band is a synthesis of three visionaries of the harp; Multi-instrumentalists at the top of their game who have discovered between them a profound, playful, and dynamic musical experience full of bold statements and delicate textures, mystery, magic and fun. They reside in San Francisco and Berkeley, California.
Chris Caswell is regarded as one of the world's finest players and makers of the Celtic Harp. He is also a respected performer on the Scottish bagpipes, Irish flute, tin whistle and Bodhran. Chris is a true Celtic Bard, a historian, teacher and musicologist. http://www.ChrisCaswell.net
Lisa Lynne is a musician and composer who has gained worldwide recognition for her original music featuring her Celtic Harp. She plays a multitude of string instruments and her recordings have placed in the top 10 billboard music charts. She is a performing artist who also works in healing music. http://www.LisaLynne.com
Aryeh Frankfurter is a performer who delights audiences with his uncommon approach to his folk repertoire. His abilities on Celtic harp, Swedish Nyckelharpa, and a multitude of strings have delighted audiences around the globe. http://www.Lionharp.com
Learn more about these talented musicians at http://www.NewWorldGypsies.com.
Triskela: "California Celtic" is a term which can be used to describe Triskela Harp Trio's sound: a fusion of world folk traditions, early music and original works which reflect the multi-culturalism of the Bay Area. Triskela's arrangements for three lever harps, voice, Irish whistle, flute and percussion transport listeners to another-worldly, yet richly familiar, place. While the trio never fails to delight audiences with lively jigs, reels and other classic Celtic fare, Triskela always has a surprise up their sleeves with music from Latin America, the Middle East and beyond.
Since 1997, Diana Stork, Shawna Spiteri, and Portia Diwa have played their eclectic repertoire throughout northern California, performing at Grace Cathedral in San Francisco, the Festival of Harps at the Dorothy Spreckels Performing Arts Center, the SF Celtic Music Festival, and even at San Francisco City Hall. Their debut CD -- Voice of Tara -- has been featured on folk radio music programs, including KALW, KPFA and KPOO. In 2008, Triskela's recording of Diana Stork's uplifting piece "Wedding Bells" was selected for the feature documentary "Reclaiming the Blade," narrated by John Rhys-Davies.
Learn more about these talented musicians at http://www.triskelaharptrio.com or http://www.myspace.com/triskelacelticharptrio.
###