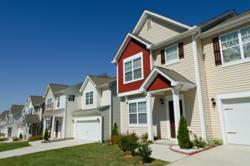 Severely underwater landlords and real estate investors can refinance under the current HARP 2.0 guidelines, which would increase a sense of security for renters.
Kansas City, MO (PRWEB) July 10, 2012
LeaderOne Financial Corporation, a direct Fannie Mae seller and servicer, expands its HARP 2.0 lending guidelines to include refinancing options for real estate investors and income property owners who have higher loan-to-value ratios and may have previously been turned down by other lenders participating in the Home Affordable Refinance Program.
According to some reports, 6%-9% of all loans currently owned by Fannie Mae and Freddie Mac respectively are for non-owner occupied homes or those currently owned by landlords. From the housing peak, renter occupied housing in single family properties have increased from 30.8% to 33.5% from 2005 to 2010. This reflects the largest increase in non-owner occupied housing usage as families displaced from the housing crisis often seek similar property types as those they previously owned.
Households with three or more residents occupy more single family housing than households with one or two residents. Single family renters are also typically older than multi-family renters, which potentially represents a greater need for this type of housing.
Many cities now have housing markets that are over 40% tenant occupied, such as Wichita, KS, Boise City, ID and Cape Coral, FL. The top two MSAs for single family rental market share include Stockton and Bakersfield, CA, both with over 50% renter market share.
Other examples of cities that have seen an increase of renter occupied single family units of 5% or more include Phoenix, Salt Lake City, San Antonio, Cleveland, and the Florida cities of Palm Bay-Melbourne, Jacksonville, Pompano Beach, Miami and Ft. Lauderdale.
The need for single family rental housing is evident, although refinancing help for landlords with above market interest rates from mortgages obtained years ago has not been forthcoming enough.
While the HARP 2.0 eligibility updates in October, 2011 made special arrangements for the many responsible homeowners who have chosen to rent their properties at a net-loss vs walking away and adding to the foreclosure crisis, few banks have jumped on board to help these struggling landlords.
Click Here to check HARP eligibility status.
"Of the 380 properties that we have under management, about 25% of our landlords are stuck with 1-3 properties that they purchased before prices fell," said Tony Sena, Broker of Shelter Realty, a Las Vegas Property Management Company. "Any monthly savings would have a positive impact for both the renters and property owners because it would create a much needed sense of stability and security," claims Sena.
Regardless of strength in local rent markets, if rental rates fail to meet or exceed the monthly carrying costs of underwater mortgages, risk continues to exist for these properties to fall into foreclosure, putting both existing property owners and tenants at risk.
David Robnett, Vice President at LeaderOne Financial, is leading the company's real estate investor HARP outreach program that has already been tested with great success and to the pleasant surprise of their income property owners who were initially skeptical of being able to refinance an investment property that was underwater.
"As a direct Fannie Mae Seller / Servicer, we have the ability to streamline the underwriting process in-house and maintain ownership of the loan when it is funded," states Robnett. "Since we have chosen to follow Fannie Mae's HARP eligibility guidelines without adding any additional internal bank overlays or approval requirements, LeaderOne has the ability to help the maximum amount of borrowers allowed by this program."
The two major benefits provided by HARP 2.0 for investment property owners who have had challenges refinancing their underwater mortgages in the past include:

Unlimited loan-to-value, which means higher than 125% LTV is still eligible.
No bank overlays that restrict borrowers from owning or refinancing more than one property through HARP.
As the White House ramps up its #MyRefi Refinancing campaign, more landlords and real estate investors may have an opportunity to take advantage of lower rates.
For more information about the HARP 2.0 program for real estate investors, contact David Robnett at (314) 640-3300 or visit LeaderOne HARP Refinance online for a comprehensive list of frequently asked questions.
About LeaderOne Financial Corporation:
LeaderOne Financial Corporation, an Overland Park, Kansas based Mortgage Banker, was founded in 1992. INC. Magazine recently named LeaderOne Financial number 149 on the 2011 Inc. 500, Inc.'s annual ranking of the fastest-growing private companies in America.