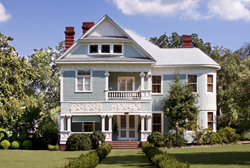 Massachusetts' delinquency rating is at a low, while HARP refinances are on the rise.
Boston, MA (PRWEB) October 23, 2013
HARP Mortgage Lender (http://harpmortgagelender.com) reports Massachusetts' underwater homeowners are taking action in preventing foreclosures by refinancing with the Home Affordable Refinance Program (HARP) to help them avoid being delinquent on their mortgages. By refinancing with HARP, many homeowners are able to switch over to a better and shorter loan term or program enabling them to take advantage of a lower monthly mortgage rate.
The Massachusetts Home Affordable Refinance Program (HARP) is a government-backed refinance plan designed and established by the Obama Administration to assist responsible underwater homeowners in refinancing to a better loan term so they can continue to make their monthly payments on time. The HARP Refinance Program had a recent revision in late 2011 through an agreement between the Federal Housing Finance Agency (FHFA), Fannie Mae, and Freddie Mac to achieve a more simple eligibility guideline by completely removing the Loan-to-Value (LTV) limitations allowing more upside down homeowners to qualify.
Based on the Federal Housing Finance Agency (FHFA)(as of August 2013) a report revealed a total of 55,540 HARP refinances since the inception of the plan. The FHFA also showed Massachusetts with 46,493 HARP refinances with an LTV greater than 125%, had it not been for the removal of the LTV limitations these particular homeowners would not have been considered eligible for the a HARP refinance today. The changes to HARP's eligibility guideline has made a huge difference in the number of HARP refinances filed, with those changes there is now an additional 1,877 HARP refinances since the inception of the program.
Click here to check your eligibility for a HARP Refinance in Massachusetts
The Loan-to-Value (LTV) breakdown for MA is as follows:
80% - 105% LTV = 46,493
105% - 125% LTV = 7,170
Greater than 125% LTV = 1,877
According to CoreLogic (analytics and business services), the negative equity for Massachusetts showed a 60,438 number of property difference in comparison to 2012's 15.6 percent (232,363) out of 1,489,000 properties. As of today in 2013, Massachusetts shows an improvement in negative equity with a significant decline to 11.5 percent (171,925) out of 1,495,000 properties.
RealtyTrac (the leading online marketplace for foreclosure properties and real estate data) (as of September) reveals that Massachusetts' foreclosure filings for this year is 17 percent lower than the same time last year, however it is still 16 percent higher than the previous month's report. An action against foreclosure is now underway with the help of HARP refinances. Hopefully we will see a drop in the number of foreclosure filings soon in the next RealtyTrac report.
The likelihood of more HARP eligible borrowers in Massachusetts is significant as there are only 3.4 percent of delinquent borrowers based on a recent data analysis collected by TransUnion (a global leader in credit information and information management services), and to be able to even be considered eligible for a refinance under the HARP plan borrowers must not have been late making their mortgage payments.
About The Massachusetts HARP Refinance Program
The program was first initiated in March of 2009, and was recently revised in late 2011 to help more underwater homeowners qualify who had a Loan-to-Value greater than 125 percent to take refinance their current underwater mortgages into a shorter loan term or program so that they can take advantage of a lower mortgage interest rate as long as they weren't delinquent. The Home Affordable Refinance Program in Massachusetts is now much more successful since the revision of the program's eligibility guidelines creating a more simple refi process towards severely underwater homeowners.
Maryland HARP Program Eligibility Guidelines:
1) Fannie Mae or Freddie Mac owns or has guaranteed the first loan.
2) Fannie Mae or Freddie Mac purchased the loan prior to May 31, 2009.
3) Borrower must be current with mortgage payments.
4) Borrower owes more than their home is worth, or there is minimal equity.
5) All mortgage payments have been prompt in the past 6 months.
6) No sixty (60) day late payments in the last 12 months.
Click here to check your eligibility for The Massachusetts Home Affordable Refinance Program
HARP Mortgage Lender is a nationwide online network of home loan professionals and lending institutions that are authorized to deal in the Obama Administration's revamped versions of the Home Affordable Refinance Program (HARP 2.0 - 3.0). To learn more from a HARP specialist, call toll-free at 866-442-2184.