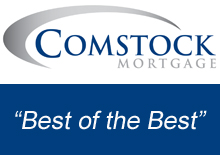 We're now able to help our clients refinance out of these higher rate loans, in some cases, saving them hundreds of dollars a month. That can really be a life changing factor for many" said Jeff Compton, Vice President of Comstock Mortgage
Sacramento, CA (PRWEB) April 03, 2012
Since the HARP mortgage program was first introduced in 2009, up until very recently, if you had asked a mortgage professional about the Home Affordable Refinance Program (HARP) they most likely would have said it was a good idea but it was too hard to qualify for.
With the initial guidelines, the maximum Loan to Value (LTV) ratio was not set high enough to allow many underwater homeowners to refinance to a better loan product.
Now with the recent release of HARP 2.0, LTV ratios on existing loans are much higher, or in some cases completely removed, permitting the homeowner to at last lower their monthly mortgage payments by refinancing into a loan based on today's historically low interest rates.
The Harp 2.0 program now has the potential to help a greater number of underwater borrowers refinance their upside down mortgages than it did before.
"We started to see an influx of inquiries from HARP applicants around the end of 2011," said Russ Moen, of Comstock Mortgage. "It was obvious from the volume of emails and questions our agents were receiving about the new HARP 2.0 program guidelines that we needed to deploy a resource site for California residents to quickly discern if they were a candidate for the program."
HARPapplication.com outlines the latest guidelines, provides the Fannie Mae and Freddie Mac loan look up tools and offers a simple secure Form for HARP Applicants to complete and receive experienced guidance in the best way to move forward.
"We're now able to help our clients refinance out of these higher rate loans, in some cases, saving them hundreds of dollars a month. That can really be a life changing factor for many," said Jeff Compton, Vice President of Comstock Mortgage.
In addition to the reduced interest rates and lower payments available through the new HARP program, homeowners are also given the opportunity to reduce their amortization period, e.g. if the homeowner is capable of continued payments similar to their existing mortgage loan payment, they could possibly refinance through the HARP 2.0 program with a shorter loan term.
Homeowners who currently have more risky loan products such as an interest- only mortgage or a short-term ARM will also benefit by refinancing into a fixed-rate mortgage through the new HARP program.
Homeowners eligible for HARP 2.0 must be current on their existing mortgage, not have any late payments in the last six months and no more than one late payment in the last twelve months. They also will need to show that they are able to afford their new refinanced loan payment.
Their current mortgage must be owned or guaranteed by Freddie Mac or Fannie Mae on or before May 31, 2009 and may not have been refinanced through HARP previously. In addition, their new mortgage must fall under current Fannie Mae and Freddie Mac Conforming Loan Limits which vary by area.
Comstock Mortgage has been providing home loan programs to California Residents for over twenty years, they have 8 office locations and a large team of experienced loan consultants so even if a HARP mortgage is not for you they may still be able to help with product alternatives.
Individual investor overlays and criteria may apply.
Homeowners that believe they may qualify under the new HARP 2.0 guidelines are encouraged to visit their HARP Application website at http://www.harpapplication.com or call them toll free on 877-470-HARP (4277).
Comstock Mortgage is a California Department of Real Estate (DRE) licensed broker with more than 20 years experience in all areas of home loan financing as both a Mortgage Banker and Mortgage Broker. California DRE #01390474 DOC #6073484 NMLS #165193
Toll Free: 877 470 4277
Source: SuperGlobe.com
# # #