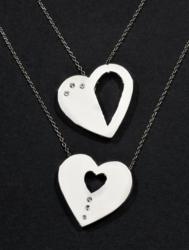 West Orange, NJ (PRWEB) January 31, 2013
HarpersLove is a new online jewelry shopping experience where the customer is the designer. Customers can design their earrings by using the builder or they can select a pendant and customize it. In addition, customers can shop from the Design Board and see what the HarpersLove community is creating.
Customers can personalize their jewelry with selections such as metal type, stone selection, stone type (color, cut, size) and accessory selections (chains, earring backing). All products are customized which can take 3-5 weeks for delivery and each order includes free shipping and 60 day risk free returns.
Why custom jewelry? HarpersLove offers 5 good reasons:
1. Stand apart from the rest. Create something that is special and not like everyone else.
2. Tell a story. It isn't just a gift that was bought for the holiday, it can specify something unique about the person who will be wearing it. Maybe it is a birthstone or their favorite color.
3. While it would appear that prices are high compared to other websites, HarpersLove uses very high quality materials which is not always the case by the other online jewelers. In addition, their products are hand made in the USA and every piece is custom made to the specifications of the design.
4. They also offer gift certificates which can be purchased by contacting customer love@harperslove.com.
5. For Valentine's Day, HarpersLove is offering various specials on their website. They include free gifts, free upgrades and various discounts. From February 1st to the 4th, all Heart Designs will be discounted by 40%.
Custom jewelry is a great gift and becoming more popular. Michelle Mullman, the CEO and Founder, writes about this on her blog.

"It is Valentine's Day and she expects something amazing ... perhaps this is your first V Day or your 50th with her. Regardless, she wants to be amazed"
"We work with brides on custom pieces for their wedding, such as earrings. In addition, we also provide custom jewelry gifts for bridesmaids"
"She is going to be a mom again or for the first time. What better way to celebrate this occasion with a beautiful pendant and the birthstone of the baby"
HarpersLove has a social presence via Facebook, Tumblr, MySpace and Twitter (@HarpersLove). Customers can also become members of the HarpersLove community by signing up for an account at Harperslove.com. Members can receive special discounts and news on products, events and website changes.
HarpersLove plans to launch new products, designs and creative ways to shop jewelry in 2013. For more information visit their website, harperslove.com and become a member or connect to their social sites. New members receive $50 towards their first order.
HarpersLove launched their website in the Fall of 2012 by Michelle Mullman, a business executive from the financial services industry. They are a small business located in West Orange, NJ. All products are hand made by artisans in the Greater New York region.