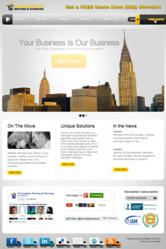 Our team worked long and hard on designing the Web site to satisfy our customers
New York, NY (PRWEB) April 04, 2012
Harrington Moving & Storage announced the launching of a new, regionally targeted Web site to better serve its New York City area customers. Reaching out to New York customers required a rebranding in the form of a new website.
The new Harrington Moving Web site features detailed explanations and resources pertaining to relocation and storage services in the Big Apple stretch. In addition the updated Web site provides articles and tips to help its customers understand and learn about the tailor-made Harrington Moving & Storage process.
Establishing a place for New Yorkers to find helpful information on subjects like moving to the City; commercial relocation; storage solutions for cramped apartments; business storage and more, was a top priority for creating this new Web site.
"Harrington Moving is very proud of our advanced and improved Web site," said Jeff Harrington, owner of Harrington Moving & Storage. "Our team worked long and hard on designing the Web site to satisfy our customers' needs. We recognize there is great demand for services in the City, from traditional moving to commercial moving to varied storage solutions; we wanted to create an appropriate platform to satisfy all their specific wishes."
Harrington explained some of the challenges involved with relocating to the the Greater New York area, often times customers move to the city's petite apartments with an abundance of odds and ends. Moreover, Harrington said families outgrow their living quarters and need quick and effective solutions.
"There are countless examples detailing the difficulties involved with moving to the New York City area, but luckily we are well trained to deal with every situation."
The latest launching of the Web site is one of the newest features introduced by Harrington Moving & Storage. In addition, the leading moving expert has posted photos and videos in an effort to become more interactive to assist its patrons. Recognizing that the traditional Harrington website was too general to its large New York clientele, Harrington Moving made major improvements for greater online visibility and better visitor interaction. The redesigned site has more calls to action that give visitors a meaningful way to interact. New page layouts and improved graphic elements make the new site design more visually appealing and easier to navigate.
"In addition to our physical presence, we also have the Web," Harrington said. "We are utilizing all our skills and resources to reach out to potential customers and ease their moving worries."
About Harrington Moving & Storage
Harrington Moving & Storage has been a leader in the moving business since 1996. Harrington Moving has provided superior service to thousands of East Coast customers. Harrington Moving & Storage is an evolving presence in the Northeast region, in addition to their excellent moving and storage services, the company participates in local charity events. Founder Jeff Harrington stresses the importance of giving back to the community; together his team of movers routinely donates their time and resources. Many non-profit organizations have dubbed Harrington Moving as 'the moving company with the biggest heart'' and a 'true gem to our our community.' Harrington Moving & Storage has received an A+ rating with the Better Business Bureau, in addition, the moving company is a proud member of the American Moving & Storage Association and is recognized by the New Jersey Warehouseman & Movers Association.