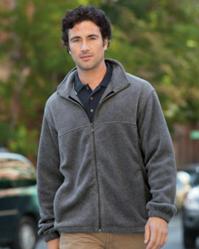 New York, NY (PRWEB) August 19, 2012
Harriton M990 Men's Full-Zip Fleece Jacket, regularly priced at $23.58 is now on sale for $20.04 with no minimum, 8/19/12 thru 8/26 at Crooked Brook.
The M990 is a 100% spun soft polyester fleece jacket with non-pill finish surface, front yoke and non-roll elastic cuffs. The bottom hem is finished with a drawcord and adjustable toggles; the front-zip pockets and full-zip front are dyed-to-match. The mid-weight fleece is highly breathable.
Its soft, comfortable feel and plush warmth make it standard for any cool weather situation. Worn as a jacket or layered under another garment poly fleece is not limited to any season. Its affordable cost and versatility make poly fleece jackets a top choice in outerwear.
Sizes: S, M, L, XL, 2XL, 3XL, 4XL
Colors: Black, Charcoal, Hunter, Navy, Red, True Royal
About Fleece Jackets
Although the words "fleece jackets" and "fleece pullovers" are used interchangeably, there is a difference between them: fleece jackets have a full zipper front where as fleece jackets with a half or ¾ zipper fronts are called fleece pullovers.
Fleece jackets are made from Polyethylene terephthalate (PET) or other synthetic fibers and can be made out of recycled PET bottles, or even recycled fleece. They are lightweight, warm, soft, and hydrophobic, holding less than 1% of their weight in water which allows them to retain much of their insulating powers even when wet. They are machine washable, dry quickly and are very breathable. Fleece blankets are another popular promotional product made from PET.
Custom jackets are a great way for people to express their own individuality and the perfect promotional apparel item for cool weather. Full zipper front or pullover fleece jackets offer the flexibility of a unisex style to be worn outdoors; spring, fall, winter or cool summer nights. Custom fleece jackets offer four seasons of freedom of expression and promotional opportunities in one style.
About Crooked Brook
Crooked Brook is a unit of the atelier division of an art studio that offers full service apparel design, pattern making, sample making, private-label small lot production, direct-to garment printing and embroidery. Since 1989, they've built a strong reputation of providing top-notch apparel designs, patterns, fit and production samples for many brand name catalogs and retailers, as well as wardrobe and costumes for movies, television and theater.
All Crooked Brook branded garments and accessories are proudly made to order in the U.S.A.
In addition, Crooked Brook offers:
Chef knives, custom and made to order men's and women's chef coats, casino, spa, resort, hotel, chef and restaurant uniforms as well as alumni chef jackets for the Culinary Institute of America. Custom and made to order men's and women's embroidered lab jackets, uniforms and scrubs for nursing, medical, dental, scientific, engineering, technology & healthcare professionals.
Custom and made to order apparel and accessories for men, women and children, including but not limited to: suits, shirts, Hawaiian shirts, pants, vests, dresses, skirts, gowns, jeans, boxer shorts, martial arts and yoga outfits.
Sewing buttons and fabric by the yard: Ripstop, Organic Cotton Twill, Gabardine, Seersucker, Denim and Supima® Gabardine.
Promotional products, items, decorated apparel and accessories, such as; personalized fleece jackets, hats, polo shirts, fleece blankets, sweatshirt blankets, custom embroidered shirts, custom embroidered jackets, embroidered hoodies, embroidered golf shirts, custom t-shirts, tote bags, custom embroidered sweatshirts and aprons that can be customized with the following apparel decorating methods:
Embroidery
Tackle Twill
Appliqué
Direct to Garment Printing (DTG)
Sublimation
With a design studio in New York City, (the fashion and gastronomic capital of the world) and a production facility in Utica, New York, they've garnered international brand name recognition as the maker of the "World's Highest Quality Chef Jackets™".
Crooked Brook ships worldwide. Hours of operations are 7:00 a.m. to 7:00 p.m. EST, seven days a week. Reach them at (315) 733-1992 to learn more.