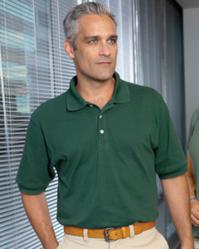 New York , NY (PRWEB) August 28, 2012
Harriton M100 Men's Cotton Piqué Short-Sleeve Polo Shirt, regularly priced at $17.98 is now on sale for $15.29 with no minimum from 8/28/12 thru 9/04/ at Crooked Brook.
The M100 is 6.5 oz., 100% ringspun cotton piqué that offers qualities such as ribbed cuffs, signature Harriton twill tape at collar and side vents and a solid, durable double-needle construction. The three-button placket with pearlized buttons and an extra button are added features that set this shirt apart from the competition.
Ringspun cotton fabric looks and feels more substantial than other shirts offered in this price range. When more than a basic polo shirt is needed, and budget is a determining factor, the Harriton collection of piqué polo shirts represents one of the best values in the industry as they combine the highest quality materials and meticulous detailing at a fraction of the costs associated with retail brands.
Sizes: S, M, L, XL, 2XL, 3XL, 4XL
Colors: White, Black, Chalk Blue, Dill, Grey Heather, Hunter, Navy, Red, Stone, Straw, True Royal
About Polo Shirts
Polo shirts are also called "polos" or tennis shirts and they became so popular on golf courses, people started calling them golf shirts. Although the words "polo shirts" and "golf shirts" are used interchangeably, the term "polo shirts" is more popular. In the sport of polo, polo shirts are called polo jerseys. Because polo shirts are more casual than button down shirt and dressier than a t shirt, many employers utilize polo shirts as part of a business casual uniform. Embroidered polo shirts with a company logo given as gifts or giveaways are called promotional polo shirts. Some of the most recognized brands of polo shirts are: Ralph Lauren, Fred Perry, Adidas, Izod Lacoste and Tommy Hilfiger.
About Crooked Brook
Crooked Brook is a unit of the atelier division of an art studio that offers full service apparel design, pattern making, sample making, private-label small lot production, direct-to garment printing and embroidery. Since 1989, they've built a strong reputation of providing top-notch apparel designs, patterns, fit and production samples for many brand name catalogs and retailers, as well as wardrobe and costumes for movies, television and theater.
All Crooked Brook branded garments and accessories are proudly made to order in the U.S.A.
In addition, Crooked Brook offers:
Custom and made to order men's and women's chef jackets, casino, spa, resort, hotel, chef and restaurant uniforms as well as alumni chef jackets for the Culinary Institute of America. Lab coats, uniforms and scrubs for nursing, medical, dental, scientific, engineering, technology & healthcare professionals.
Custom and made to order apparel and accessories for men, women and children, including but not limited to: suits, shirts, Hawaiian shirts, pants, vests, dresses, skirts, gowns, jeans, boxer shorts, martial arts and yoga outfits.
Sewing buttons and fabric by the yard: Ripstop, Organic Cotton Twill, Gabardine, Seersucker, Denim and Supima® Gabardine.
Promotional products, items, decorated apparel and accessories, such as; custom embroidered fleece vests, hats, polo shirts, fleece blankets, sweatshirt blankets, custom embroidered shirts, custom embroidered jackets, embroidered hoodies, embroidered golf shirts, custom t-shirts, tote bags, custom embroidered sweatshirts and aprons that can be customized with the following apparel decorating methods:
Embroidery
Tackle Twill
Appliqué
Direct to Garment Printing (DTG)
Sublimation
With a design studio in New York City, (the fashion and gastronomic capital of the world) and a production facility in Utica, New York, they've garnered international brand name recognition as the maker of the "World's Highest Quality Chef Jackets™".
Crooked Brook ships worldwide. Hours of operations are 7:00 a.m. to 7:00 p.m. EST, seven days a week. Reach them at (315) 733-1992 to learn more.