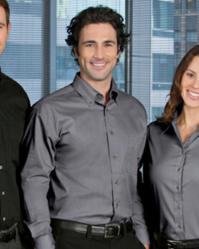 New York, NY (PRWEB) September 17, 2012
Crooked Brook is offering the Harriton M500 Men's Long Sleeve Twill Shirt with Stain-Release at 15% off, blank or customized with embroidery, embroidered patches, appliqué or tackle twill with no minimum from 9/17/12 thru 9/24.
Harriton M500 Men's Long Sleeve Twill Shirt with Stain-Release is regularly priced at $21.98 blank; the 15% discount brings it down to $18.68.
The M500 is 55% cotton, 45% polyester wrinkle-resistant fabric with stain-release. It has extra stitching at seams and buttons, flat-felled seam finishing full back yoke and back pleat, two-button adjustable cuffs and left-chest pocket, button-down collar.
The casual, yet professional look of a twill shirt is a great alternative to the traditional oxford dress shirt. Harriton's long-sleeve twill shirt is comfortable and can stand up to heavy activity making it perfect for any occasion. The stain-release treatment and wrinkle resistant fabric ensures this shirt looks new whenever it is worn. Harriton M500 twill shirt comes in 14 colors, with sizing up to 6XL in Men's and a Ladies' long-sleeve version and a short-sleeve version.
Sizes: S, M, L, XL, 2XL, 3XL, 4XL, 5XL, 6XL
Colors: White, Black, Dark Grey, Dill, French Blue, Hunter, Light College Blue, Navy, Red, Stone, Sunray Yellow, Team Orange, Team Purple, Wine
About Custom Shirts
Custom shirts are one of the best marketing tools available and embroidery is the most popular method of decoration for button front woven shirts. Logo embroidered shirts convey an image of professionalism and have always been a great way to build brand recognition or to promote a business, product, cause, or institution. They can be used for both indoor and outdoor events and many brands offer shirts in matching men's and women's styles (also known as companion styles).
Although embroidery is the most popular method of decoration for polo shirts, golf shirts and button front woven shirts, it is not suitable for all logos or designs because more often than not, the artwork was designed for print. With print, letters can be much smaller and colors can be incorporated more fluidly than with embroidery. Shirts weighing less than 5.5 ounces cannot be embroidered which eliminates the lightest weight shirts and those made in performance fabrics from your choices. Therefore, in some cases, printed shirts are a better option and a lower cost alternative to embroidered shirts.
After Crooked Brook reviews the customers design or logo, they will discuss which method of customization is best for their situation.
About Crooked Brook
Crooked Brook is a unit of the atelier division of an art studio that offers full service apparel design, pattern making, sample making, private-label small lot production, direct-to garment printing and embroidery. Since 1989, they've built a strong reputation of providing top-notch apparel designs, patterns, fit and production samples for many brand name catalogs and retailers, as well as wardrobe and costumes for movies, television and theater.
All Crooked Brook branded garments and accessories are proudly made to order in the U.S.A.
In addition, Crooked Brook offers:
Custom and made to order men's and women's chef jackets, casino, spa, resort, hotel, chef and restaurant uniforms as well as alumni chef jackets for the Culinary Institute of America. Lab coats, uniforms and scrubs for nursing, medical, dental, scientific, engineering, technology & healthcare professionals.
Custom and made to order apparel and accessories for men, women and children, including but not limited to: suits, shirts, Hawaiian shirts, pants, vests, dresses, skirts, gowns, jeans, boxer shorts, martial arts and yoga outfits.
Sewing buttons and fabric by the yard: Ripstop, Organic Cotton Twill, Gabardine, Seersucker, Denim and Supima® Gabardine.
Promotional products, items, decorated apparel and accessories, such as; custom embroidered fleece vests, hats, polo shirts, fleece blankets, sweatshirt blankets, custom embroidered shirts, custom embroidered jackets, embroidered hoodies, embroidered golf shirts, custom t-shirts, tote bags, custom embroidered sweatshirts and aprons that can be customized with the following apparel decorating methods:
Embroidery
Tackle Twill
Appliqué
Direct to Garment Printing (DTG)
Sublimation
With a design studio in New York City, (the fashion and gastronomic capital of the world) and a production facility in Utica, New York, they've garnered international brand name recognition as the maker of the "World's Highest Quality Chef Jackets™".
Crooked Brook ships worldwide. Hours of operations are 7:00 a.m. to 7:00 p.m. EST, seven days a week. Reach them at (315) 733-1992 to learn more.