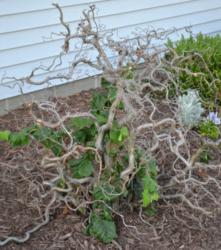 There's a fungal disease that's attacking these beautiful plants.
Perry, OH (PRWEB) April 19, 2013
A silent killer is killing one of most beloved plants in the garden.
The plant is commonly known as Harry Lauder's Walking Stick and it is a true plant lovers plant. Botanically known as Corylus Avellana Contorta, this crazy looking plant is covered with medium size floppy leaves in the summer that really do nothing to make the plant striking, but it's the twisted branches that turn and curl like a pig's tail that make this plant one of the most interesting in the garden.
Harry Lauder's is one of the few plants that really shine during the winter months when the plant is dormant. It is when the plant is without leaves that the true form of the curly branches can be seen.
According to nurseryman Michael McGroarty from Perry, Ohio there is a fungal disease that is attacking these beautiful plants and most gardeners can't figure out why their beloved plant is struggling. "The disease is Eastern Filbert Blight", says McGroarty. "It's easy to spot if you know what you are looking for." McGroarty says that an infected plant will have small black diamond shaped or football shaped cankers along the stem of plant. "These cankers are not raised but embedded in the bark of the plant and often appear in a straight line, only about 1/8" inch in length", says McGroarty. "They are pretty obvious upon close inspection."
At first sign of infection all infected branches should be removed. The shears used to remove the infected stems should be cleaned with rubbing alcohol after each cut is made.
"It's frustrating to have a plant that you really care for infected by something like this but as gardeners it's just something we deal with", says McGroarty. "In the nursery I grow Harry Lauder's Walking Stick and train them into single stem trees that have these crazy, crooked, contorted stems and people go crazy over them."
For more about this plant disease and images of both infected and non infected plants visit this page on McGroarty's garden blog: Harry Lauders Walking Stick.