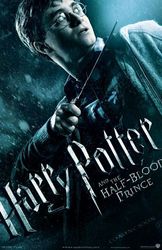 Harry Potter and the Half Blood Prince
Houston, TX (PRWEB) July 14, 2009
Would Harry Potter sleep in a Platform Bed that he could hover above, or a Storage Bed to store his magical charms in? How can the stars of "Harry Potter and the Half Blood Prince" rest at the end of a day of tough wizardry? Home and Bedroom Furniture thinks it has the answer with it's wide variety of beautiful and Magical Beds that will fit every wizards taste. To prove it, they are having a "Magical Bedroom Furniture Sale". From now until the end of May, every item in their online store will be on sale for 10% off their already discounted prices. Simply enter the code "magic" into the coupon box at checkout and you will cast a spell getting yourself a 10% discount on everything you buy.
As "Harry Potter and the Half-Blood Prince" opens in theaters this week, fans will be lining up in droves to catch their favorite boy wizard in action. Harry, exhausted from the rigors Dumbledore has put him through in preparation for the final battle, could use nothing more than a little rest. Home and Bedroom is happy to accommodate Harry and all the residents of Hogwarts School of Witchcraft with a wide choice of comfy beds on which to lay their heads at night. With the wizardry of manufacturers Hillsdale Furniture and Fashion Bed Group, Harry Potter fans can cast a J.K. Rowling's spell on their own bedrooms.
In the teaser for "Harry Potter and the Half-Blood Prince," Professor Albus Dumbledore rumbles in a hesitant, half-apologetic baritone, "Once again, I must ask too much of you, Harry." Never one to back down from a challenge, Harry will undoubtedly comply with this Herculean request. But at the end of a hard day of casting spells, there's probably nothing he would like better than to pull the covers back up over his head and rest his head and Wand. To make his rest even more soothing, he might consider adding an Organic Mattress from Keetsa Mattresses.
In this latest film installment in the Harry Potter series, Harry, Hermoine, Ron and the gang will be faced with a new set of dangers lurking inside the castle walls. With the defeat of Voldemort at the forefront of his mind, Harry will spend hours interpreting the ancient scribbles written in the margins of a new Potions Book. At the end of the day, a Platform Bed by Modus Furniture could be the perfect place for Harry to lie down and dream up his next Magical defense.
But wizardry isn't all that lies in store for "Harry Potter and the Half-Blood Prince" filmgoers. Romance is also promised as part of the plot when "A box of love potion-laced chocolates ends up in the wrong hands and changes everything." Found on Harry's bed, they'll cast a different kind of spell on their devourer. Perhaps one of the Magical Bar Stools from Pastel Furniture would be the perfect place for a Wizard to figure his way out of romantic entanglements and mortal dangers.
For more information on how to cast a Hogwarts spell on any bedroom, you can see all the Harry Potter bedroom wizardry options Home and Bedroom has to offer, visit the company online at http://www.home-and-bedroom.com .
###