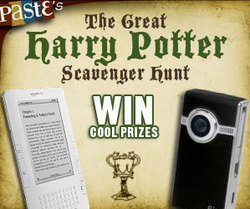 The Great Harry Potter Scavenger Hunt.
Decatur, GA (PRWEB) July 16, 2009
Today, on the heels of the release of the sixth installment of the Harry Potter film franchise, Harry Potter and the Half-Blood Prince, Paste launches an online game dubbed "The Great Harry Potter Scavenger Hunt." Players invoke a special command, complete tasks, and earn points ("Galleons") toward entries in a random drawing for great prizes.
The goal of the game is to help visitors explore and learn more about PasteMagazine.com, have a little fun with our content--several times during the hunt your browser will do things you've never seen it do before--and challenge readers' Potter knowledge.
The game will unfold over the coming week. Each weekday, we'll unlock a new level. Each level has five tasks to complete, as well as bonus items with instant prizes and more. Prizes include a Kindle, a Flip UltraHD camcorder, iTunes giftcards and subscriptions to Paste and will be awarded after two weeks of play, on July 31.
The game begins when the reader types the Windows keyboard shortcut for the magazine's name. You can then enter spells and search for clues to earn Galleons. There are also instant prizes that pop up randomly while players navigate around PasteMagazine.com.
The game also makes good use of Twitter. Players automatically earn points by following @PasteMagazine and for adding "#pottergame" to their tweets. Game hints are provided via Twitter (in addition to hints provided on the website).
For complete details visit Scavenger Hunt Announcement and Rules at http://www.pastemagazine.com/articles/2009/07/harry-potter-scavenger-hunt.html. (The Great Harry Potter Scavenger Hunt is an unofficial bit of fun from Paste Media Group and isn't affiliated with or supported by Warner Brothers, J.K. Rowling or others associated with the Harry Potter franchise.)
This is just the latest way Paste has developed Internet technologies to push the interactive boundaries of a magazine website. Earlier this year, Paste launched the viral phenomenon Obamicon.Me, where users created more than a million unique icons in the style of Shepard Fairey's famous poster.
Paste magazine is one of the fastest growing independently published entertainment magazines in the country, named "Magazine of the Year" at the 2007 and 2008 PLUG Independent Music Awards. Providing thoughtful analysis on the best in film, books and other aspects of popular (and alternative) culture, Paste is the premier magazine for people who still enjoy discovering new music, prize substance and songcraft over fads and manufactured attitude, and appreciate quality music in whatever genre it might inhabit. Now in its seventh year, Paste is available on newsstands all over the U.S. and Canada.
Contact:
Kevin Keller
404-483-5564
# # #